On Mar. 1, 2023, the police arrested two men, aged 60 and 79, suspected of housebreaking and theft.
Broke into South Bridge Road restaurant
At about 5:30pm on Feb. 27, the Singapore Police Force (SPF) received a report that a restaurant along South Bridge Road had been broken into.
Cash amounting to S$1,400 was purportedly stolen from the premises, according to SPF's news release.
Through ground enquiries and with the aid of images from police cameras, officers from Central Police Division established the identities of the two men and arrested them.
Housebreaking tools and S$1,300 in cash, believed to be stolen from the restaurant, were seized as case exhibits.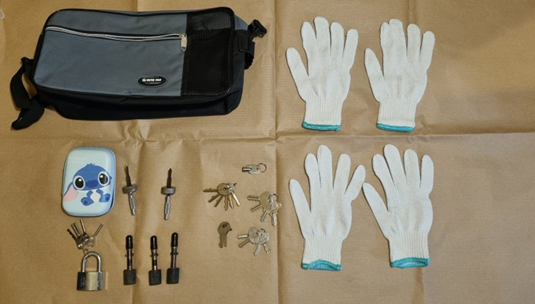 Charged on Mar. 3
Both men will be charged in court on Mar. 3 with housebreaking and theft.
If convicted, the two men may face up to 10 years in jail and a fine.
SPF advises all property owners to secure all doors, roller shutters, windows and other openings with good-quality grilles and closed-shackled padlocks when leaving their premises unattended.
Property owners can also install a burglar alarm, motion sensor lights, or CCTVs, to cover the access points in their premises and ensure that they are in good working condition by testing them periodically.
They should also refrain from keeping large sums of cash on their premises, SPF said.
Congratulations on making it to the end of this article. That makes you different. The sort who likes to consume such content. And possibly create your own. For us. The type of content to get more of our readers to stick till the end. Want to write for us? Check this out.
Top image courtesy of Singapore Police Force
If you like what you read, follow us on Facebook, Instagram, Twitter and Telegram to get the latest updates.