How many cats does it take to change a light bulb?
Just one, apparently, according to a video that showed a cat in Malaysia fiddling with a ceiling lightbulb till it lit up.
The 16-second clip was posted on TikTok by user "annezack6" on Aug. 19, and has since garnered more than 1.1 million views.
@annezack6 repair mentol ke bang 🤭😂😅😺😺😺😺#kucing #miow #catlover #funnycat #nasiblabulabi #kerjakeras ♬ Selagi belum tutup mata KERJA KERJA KERJA – 𝙁𝙧𝙖𝙯𝙤𝙧𝙍𝙖𝙯™
The video
In the clip, a black-and-white cat was perched on top of what appears to be a tall cabinet or fridge, that almost reached the ceiling.
Balancing on its hind legs, the feline reached up to grip the edges of a ceiling lightbulb with its front paws. Notably, the bulb was not lit up at this point.
As the cat fiddled with the lightbulb, it briefly flickered to life, before going dark again.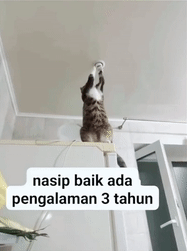 However, the unsuccessful attempt did not appear to deter the kitty.
It tried again, this time using just a simple paw to tap against the edge of the lightbulb.
And it did the trick: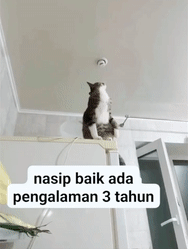 The video's caption, written in Malay, also suggested it was not the first time the cat had tried this particular manoeuvre.
It read, "Luckily, it has three years of experience".
Nice.
Online users respond
In the comments, a number of users played along with the joke that the cat was a professional technician, or "wireman".
"If I want to change LED light, how much is it?" one user wrote.

Another wrote, "His charges will be too expensive".

Others noted that the cat needed to observe safety precautions, like wearing gloves when touching electrical sockets.
"Wear gloves on your hand… safety first," a particular user advised.

Nevertheless, one user chimed in to say that such displays were not true of all cats.
"At least their cat can work, our cat just eats, sleeps, poops and repeats".

Other funny cat antics:
Top image from