Japan's automobile industry has been pushing for measures to protect cats that curl up in car compartments, by encouraging drivers to thump the bonnets of their cars before they start up.
The "Neko Ban Ban" scheme, which translates directly to "Cat Knock Knock" in English, was originally started by Japanese car manufacturer Nissan Motor Co. in 2015, but has recently been going viral on social media.
Here is a video of Nissan's campaign video, starring an assortment of furry felines.

&amp
Cats hide in warm places
According to the Japan Automobile Federation (JAF), cats may climb into a warm engine compartment from under the car or hide in the small space above tyres while seeking shelter and warmth during the winter or rainy seasons.
想像の1000倍猫のお家だった pic.twitter.com/tU03PxGDkw

— もふもふ動画 (@tyomateee2) February 25, 2023
RT@LoliSo1839
今の時期 #猫バンバン の重要性が叫ばれておりますが、正直に申し上げますと猫バンバンだけでは不十分です。
面倒でも実際にボンネットを開けて確認しないと100%防ぐことは出来ません。
猫バンバンした後の僕のロードスターのボンネットの中の写真。  pic.twitter.com/s4Vbqiu4Rq

— Yuki (@nekoyanagi076) November 5, 2020
Unfortunately, if the car starts, the cats could get caught in the moving parts or get run over by the car when they jump down.
To avoid such accidents, drivers can take measures such as tapping the hood to make a loud noise, honking the car horn, or placing cat repellent near the car.
JAF shared that they received 21 calls in January last year to help remove cats from engine compartments, and also 284 calls for rescues, according to Japan News.
Japan News reported that Japan's automobile industry is making efforts to raise awareness of the situation.
Apart from their campaign video, Nissan is encouraging drivers to place a custom-designed bumper sticker on their cars to support the campaign.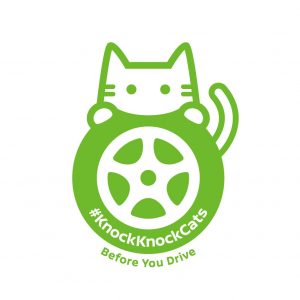 じーつーさんと山羊さんに教えてもらったやつ貼った
のるまえに #猫バンバン pic.twitter.com/ooh700Dxuf

— こっぺ珍 (@maru_bsk6) February 24, 2023
Its website also features photos, illustrations and other initiatives carried out by people across Japan to save cats from car accidents.
As of Jan. 25,  there have been over a million posts made on Twitter and Instagram with the hashtag #猫バンバン or #NekoBanBan, according to Japan News.
Mazda Motor Corp. has also updated their owner's manuals, adding a request for drivers to check that no cats or other animals are sheltering in the engine compartment or under the car.
Top image via @carsensor on Twitter / Frida's Foundation on Facebook.