Firsthand is a new content pillar by Mothership, featuring in-depth articles and videos about people in Singapore and their stories.
We'll explore issues that matter by experiencing them for ourselves, gather expert opinions, and hear the perspectives of young Singaporeans, to present the points of view that matter, firsthand.
---
It started as an ordinary day for Xavier Lim, but it was about to change his life.
Sometime in 2018, the 17-year-old was playing a casual game of badminton with his family.
Out of nowhere, Lim was approached by a stranger who had been watching their game.
He asked Lim if he was interested in playing para-badminton.
"I was quite shocked lah," Lim said with a laugh. "My family was all shocked also. Like, some random guy just approached me at Our Tampines Hub!"
This man, a badminton coach, would introduce Lim to the world of short stature badminton, one of six different variants of badminton for athletes with physical disabilities. He would later become Lim's first coach.
Lim, now 21, was born with achondroplasia, a genetic disorder that results in dwarfism.
Standing at 1.33 metres, Xavier is the only short stature badminton player in Singapore.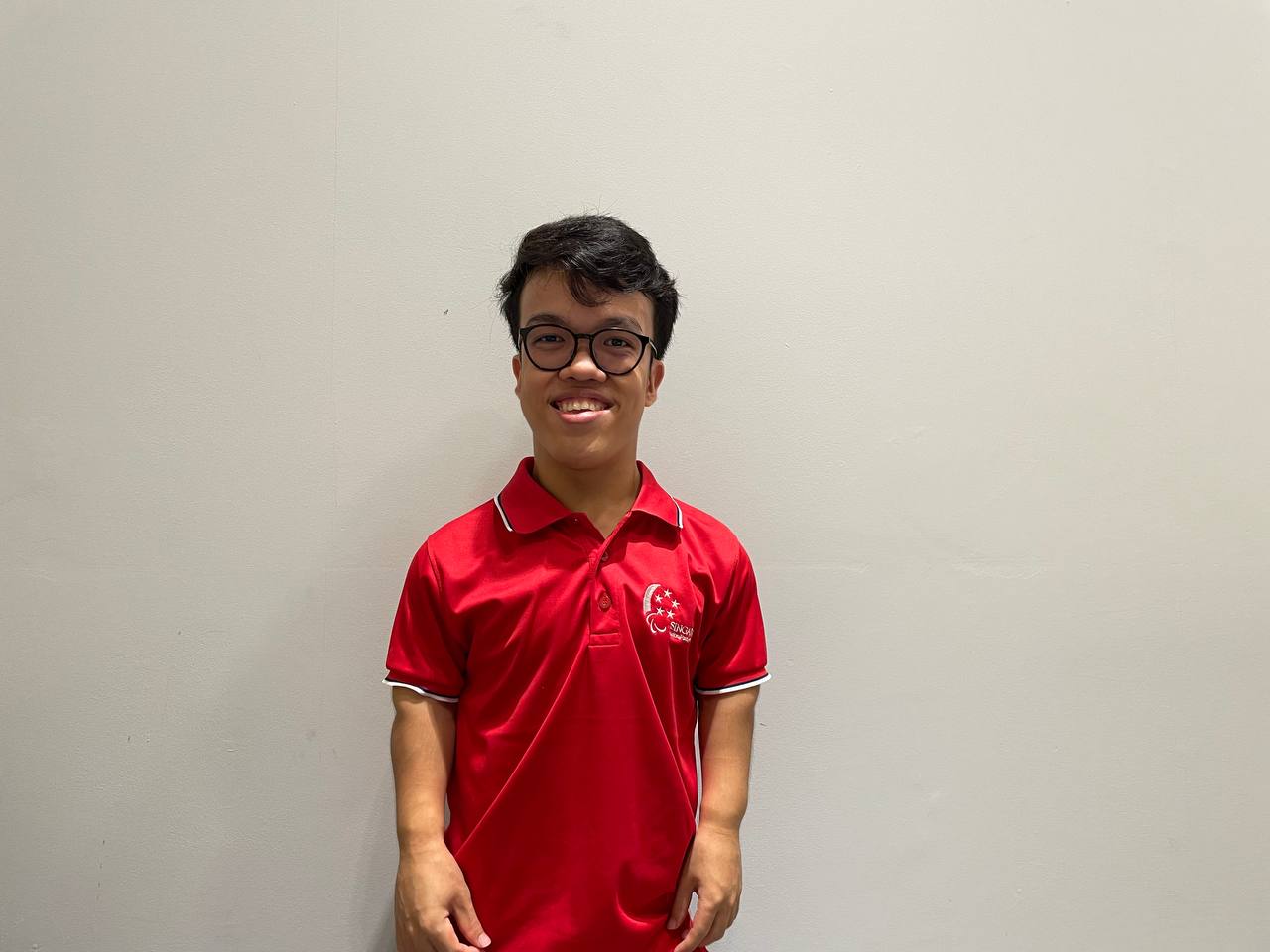 A parallel game
Lim is one of Team Singapore's youngest athletes, and the youngest para badminton player in Singapore.
"My friends always ask if the court is smaller in short stature badminton," Lim said with a knowing smile. "It's not."
As it turns out, the court size and rules for short stature badminton, also known as SH6 badminton, are exactly the same as its able-bodied variant.
"You just run more because of your shorter legs," Lim explained. "The game is about trying to move each other around."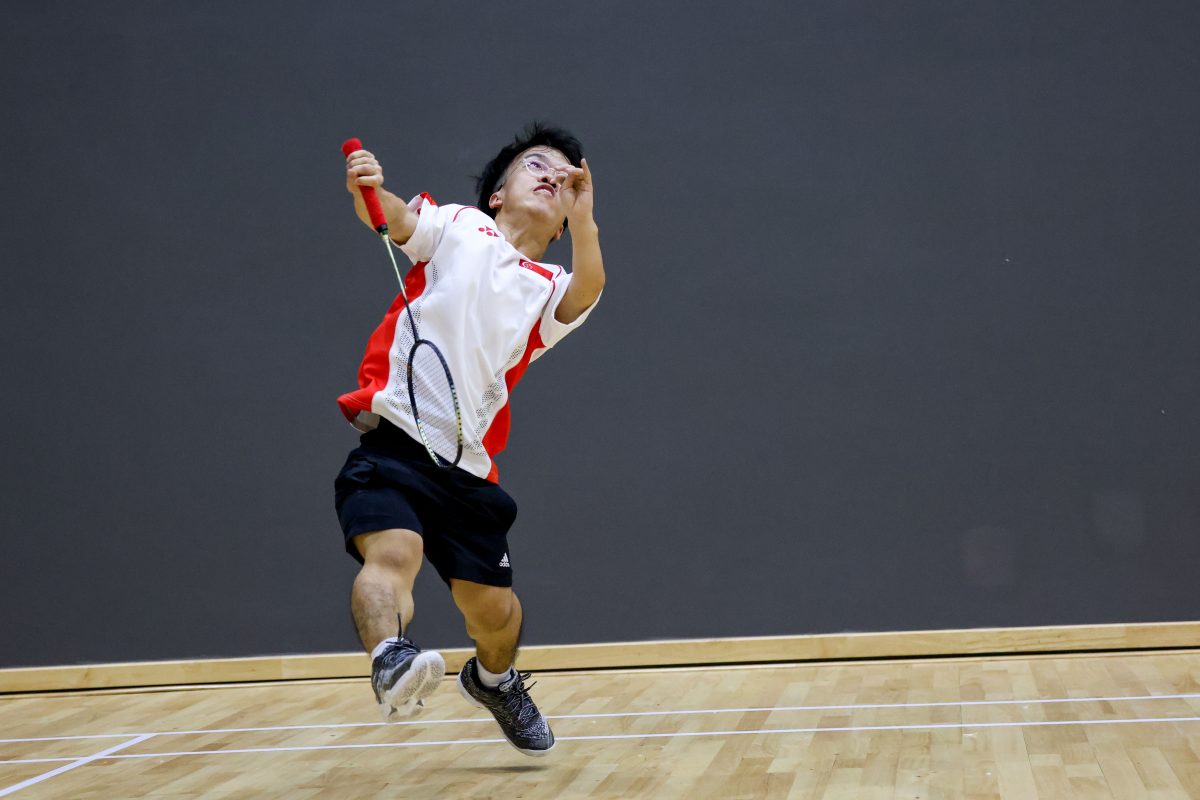 A common tactic, Lim says, is to hit the shuttle to the furthest corners of the court, to force the opponent to cover more ground.
Accordingly, an important dimension in Lim's training is to work on his physical strength and stamina, to be able to cover the entire court throughout a game.
The only one in Singapore
From that day onwards, badminton became a huge part of Lim's life.
"Honestly, I'm not the kind who likes to study," Lim said, grinning. "So, I remember that Tuesday and Thursday were my training days. Every week, I would look forward to those two days."
However, the very first time Lim participated in an overseas competition, he found himself in an unfamiliar spot.
"It did not go well," he said frankly.
There were a lot of competitive badminton conventions that Lim had to adjust to quickly. For instance, he did not realise that the announcer would announce his name to the entire stadium before a match, which made him nervous.
He was also unfamiliar with tactics that badminton players often used to slow down the game and catch their breath. For example, players would ask the referee for permission to wipe their sweat or change the shuttle.
"It's simple, small things like that," Lim said.
"All these things accumulated, and I got very nervous," he said.
He'd been training to represent Singapore for the past 18 months, but as the only SH6 badminton player in Singapore, he wasn't able to get competition experience.
"When I trained, I only trained how to play badminton," said Lim.
Injury woes
Nerves and inexperience were not the only challenges that stood in Lim's way.
During a training session in 2020, Lim suddenly felt both his legs go numb, and what he described as a "shooting, burning pain".
It turns out that Lim was experiencing spinal stenosis, which occurs when the spaces in the spine become narrower and create pressure on the spinal cord. The condition is common among those with achondroplasia, such as Lim.
Lim underwent lower back surgery in 2021, and spent an extended period on the sidelines.
"It was difficult to lie down there and know that I can't do anything," Lim recalled.
"At the time, I was thinking: What happens if this really doesn't get better and I can't play again?"
Because of that injury, he missed out on the opportunity to play at the Asian Youth Para Games.
"Mentally, I wasn't the most stable, because I was itching to go back and play," he said.
Badminton was a huge part of Lim's life, after all.
A bad tournament
After the lengthy injury layoff, Lim's return was not all smooth sailing, either.
"I mean, it was a good feeling to go back, but it also sucked," Lim admitted. "Badminton is a game where you need a lot of muscle memory. You need to hit the shuttle all the time, every week."
Recalling his first day back to training, Lim said:
"The first half an hour that day, I was so pissed off, because I couldn't hit anything!"
It took several months of training before Lim could compete again. In 2022, he returned to the court at a tournament in Indonesia.
However, he had to overcome the mental weight of returning to a tournament with the expectation to perform.
"Indonesia's players are really good, and my coach's expectations of me were also very high," Lim explained.
A combination of nerves, unmet expectations, and built-up tension even led to some disagreements between Lim and his coach.
Lim returned to Singapore feeling defeated.
"At the time, I blamed myself lah," Lim said sheepishly.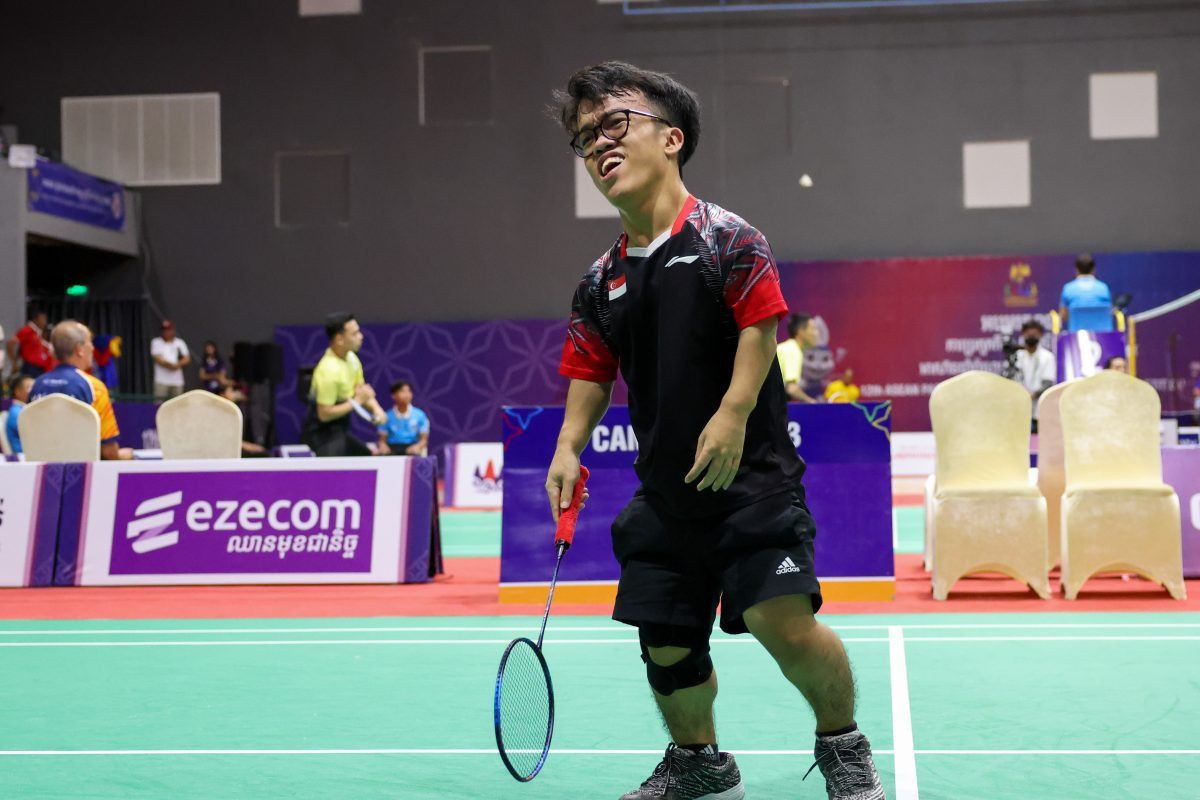 "I wanted to quit"
Lim's disagreement with his coach, as well as his feelings of self-blame, almost pushed him to give up on the sport entirely.
"I'll be honest," Lim admitted. "I wanted to quit. After the argument with my coach, we didn't speak."
Coming to terms with a failed tournament was a difficult process for Lim. He recounted:
"I still had courts booked, so I just went and played with my dad, and tried to have fun.

But it was a bit hard: I wanted to train; I just didn't want to train with my coach anymore.

At the time, the disappointment was quite fresh. I was thinking, wow, I reacted like that during my competition. I was so tight, so tense. Am I going to be able to handle another one?

I feel like my answer at the time would have been no."
It took a period of introspection before Lim could pick himself back up again.
"I thought about it, and it would've sucked to quit after four years of training," he recalled. "I thought, maybe if I changed coach, I could give it another shot."
While reflecting on his poor showing at the tournament, Lim made another realisation.
"At the time, it was a very bad experience. But I think, looking back a couple of months later, I'm quite glad I went through that.

I realised that I overthink a lot. You want everything to go very well: you want to sleep well, eat well, you want to stretch and warm up properly.

The thing is, I realised that you don't need everything to go well for you to play well. A few things can go badly—or even everything can go badly.

But the end of the day, once you step out there, you just play like yourself. That's all that matters."
He realised that he often felt nervous in tournament situations, and he wanted a coach who was more encouraging when he made a mistake.
Lim's reflections certainly paid off. In December last year, he hired a new coach whom he thought was a better match.
At his next tournament, he had a "much better" experience, as his coach was able to help keep his nerves in check during the game.
In particular, Lim felt that working with a different coach allowed him to respond better to making mistakes in a tournament situation. He said:
"In badminton, you're not going to thrash someone 21-0. You're going to make mistakes, and you're going to lose points.

But the important part is that you're okay with making those mistakes, and you learn from them."
An Asean Para Games debut
With his results slowly improving, Lim went into his very first Asean Para Games in June. He made it to the quarterfinals, where he was matched up against Indonesia's Dimas Tri Aji.
This was the same opponent he lost to in the previous tournament in Indonesia.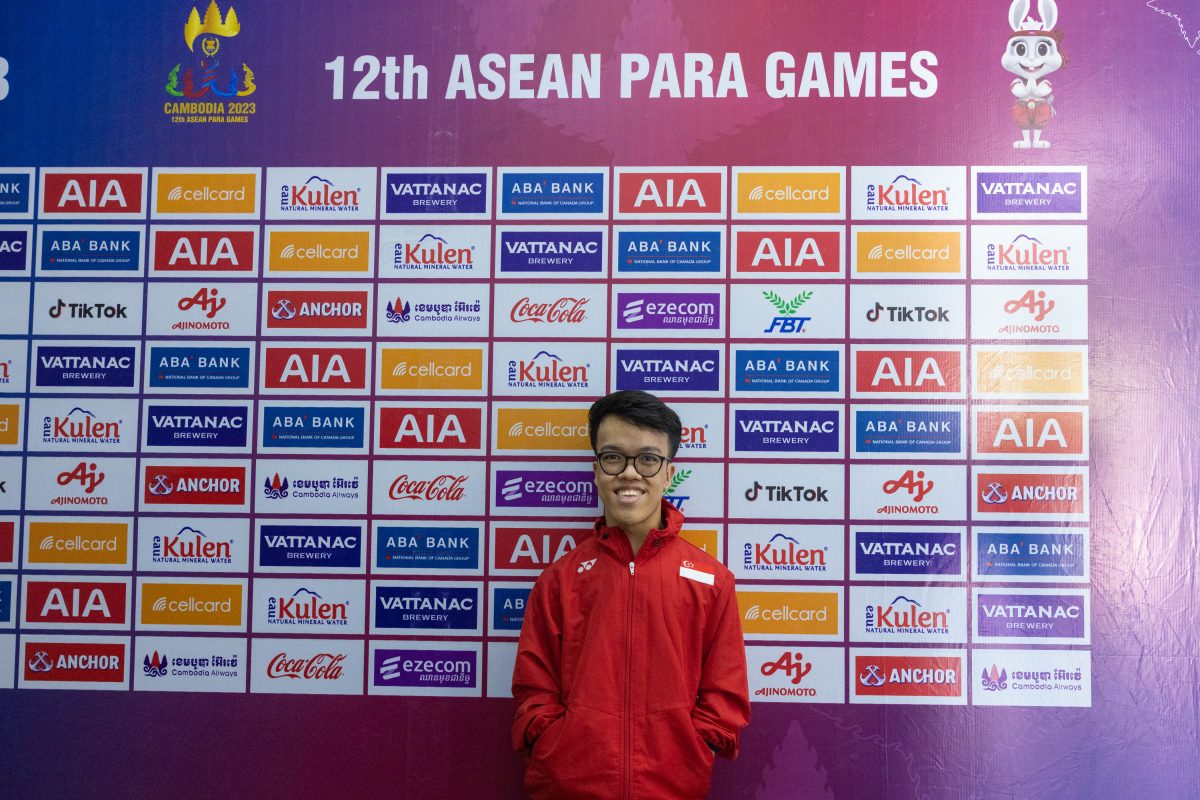 Unfortunately, Lim would go on to lose again. But this time, he had a different outlook on the match.
"Even though I lost, and even though I had only done a few months of training with my new coach, I could see my progress," Lim said. "I played a lot better—really, really a lot better. I'm proud of that."
The Asean Para Games also gave Lim a new experience: playing in front of a boisterous crowd.
Lim's previous experiences with badminton tournaments did not usually have many spectators.
For the Asean Para Games, however, Lim played matches in front of crowds that consisted of supporters from Singapore's Team Nila.
"I feel a different sort of pressure," Lim said. "Previously, I just had to deal with pressure from myself. I just played to my best. But now, there are expectations from someone else, even if you're just imagining [these expectations]."
"I was thinking, like, what if the minister is there, then I kena thrashed?" he laughed. "That's kind of embarrassing. But luckily, it didn't happen!"
Team Nila was an extremely vibrant presence in the stands during Lim's quarterfinal loss.
"At first I got a bit distracted, because they were quite loud," Lim admitted. "And you also don't want to disappoint them, you know? They came all the way here. In the first set, I didn't play very well."
But he continued with a smile. "In the second set, I played better. Then, when I was leading, I could really feel their excitement, and I got more excited."
The crowd's excitement also helped Lim to pick himself up through tough moments of the match. He said:
"When you lose a few points in a row, you might start to get worried, because you feel that the opponent is separating from you or starting to catch up.

But because the crowd is around, when they shout, you still feel like everything is alright. Like, I got this."
Looking ahead
Despite bowing out at the quarterfinals, Lim returned to Singapore feeling happy with his improved tournament performance.
With his performances on an upward trajectory, he hopes to qualify for the next Para Badminton World Championships in 2025.
I wondered if Lim was planning to go full-time at some point.
Lim responded wistfully:
"As much as I would like to do it full time, I don't think I can.

In an ideal world where money doesn't make a difference, I would. But unfortunately, it does."
I was a little surprised, although not totally shocked, by his answer.
Lim explained that Sport Singapore offers the Sporting Excellence Scholarship (spexScholarship) to outstanding athletes, which is contingent on their performances in major international competitions.
Being offered the scholarship would allow him to pursue badminton full time.
However, as a relative newcomer to short stature badminton and currently only a part-time athlete, Lim explained that it would be difficult for him to improve his performances to the point where he meets the scholarship requirements.
Without the scholarship, Lim explains that pursuing badminton full time would not be financially sustainable for him.
"To drop everything and do it full time involves a lot of sacrifices. Financially, it's maybe not the best decision."
It seems like Lim is stuck in a catch-22 situation.
To be good enough to qualify for the scholarship, he needs to be able to train and compete sport full time.
But to train and compete full time, he needs to be offered the scholarship.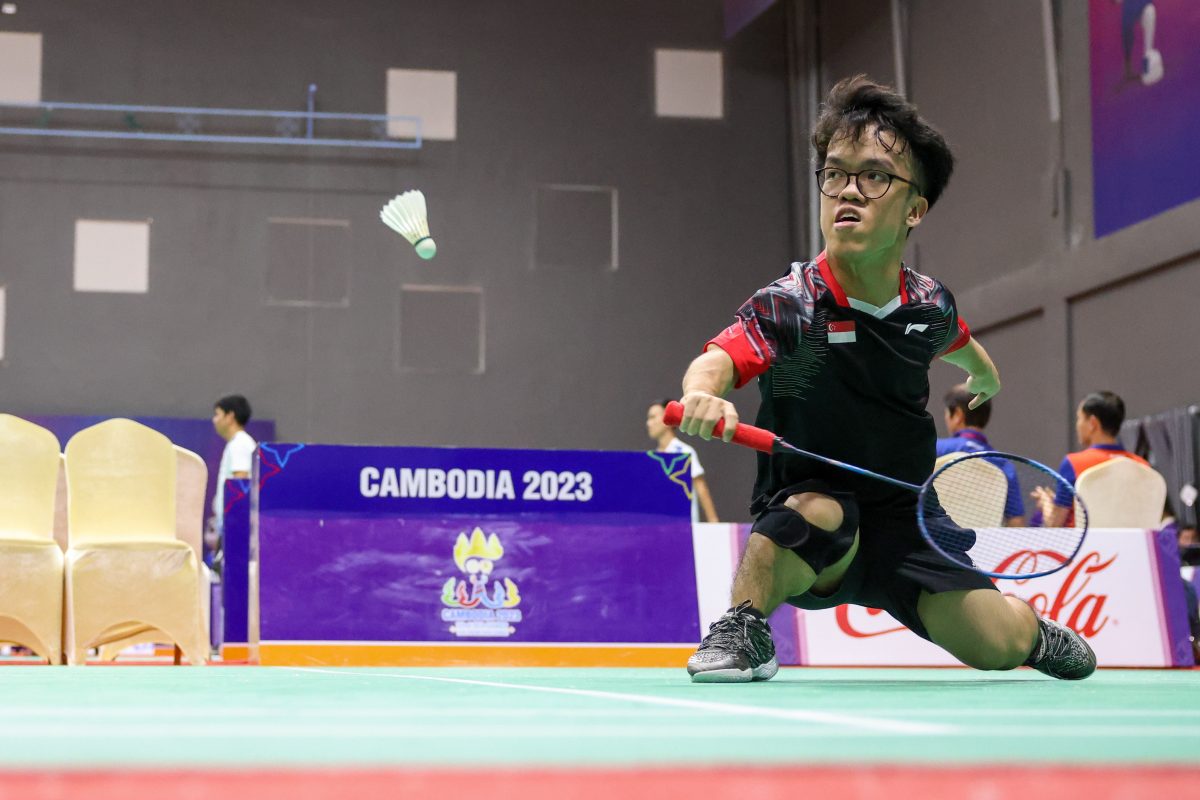 That said, as a national athlete, Lim does receive support outside of the spexScholarship, including medical and physiotherapy support, as well as support for training and overseas competitions.
With this, he is firmly focused on his immediate goals — to qualify for the 2025 World Championships, and eventually, the 2028 Paralympics in Los Angeles.
I ended the interview feeling inspired by Lim's journey, and the self-awareness that helped him through it.
Para badminton was not just a sport or a hobby to him.
From a chance encounter nearly five years ago, badminton has now become a big part of Lim's life.
As he emerges from a difficult period in his career, who knows where his badminton journey will next take him?
To conclude the interview, I asked Lim if he had any words of advice for aspiring young athletes out there.
"Make sure you like what you're doing, and don't lose sight of why you're doing it," Lim said. "Just have fun, and don't take it too seriously also."
Top photo courtesy of Calvin Teoh for SNPC.
---

Have an interesting or unconventional journey to share? Email us at [email protected].