An eatery in Singapore recently found itself a target of poor Google reviews, having received dozens of one-star ratings from anonymous individuals in the span of 48 hours.
The reviews apparently appeared after one of the eatery's staff posted a less-than-stellar TikTok about another restaurant, leading them to conclude that this was a case of sabotage.
"Breaking the bowl of Vietnamese people"
Publicising the matter on Facebook, Wawa Lala Bee Hoon explained the flood of negative reviews appeared just after one of its staff members posted a TikTok review of an unnamed Vietnamese restaurant on his personal account.
The staff member, Yan, had shared his dining experience at the restaurant after patronising them on his day off on Mar. 13.
In a review seen by Mothership, Yan said that the soup served was too cold and despite not being crowded, the staff had to be reminded to serve a bottle of green tea.
The serving staff also gave an "attitude of disrespect", reminding that there was tax to be paid. He ended the review by saying the restaurant was beautiful but he could not support the place anymore.
Unfortunately, the restaurant owner did not take kindly to Yan's review and accused him of "breaking the bowl of Vietnamese people."
The owner allegedly proceeded to harass Yan by offering netizens monetary incentives ranging from S$300 to S$1,000 in exchange for Yan's personal information.
A TikTok video making derogatory remarks about Yan's sexual orientation was also posted, according to WaWa.
The owner allegedly also threatened legal action against Yan for damages resulting from his poor review of the restaurant.
Flooded by one-star Google reviews
Wawa Lala Bee Hoon said it had "taken proactive measures to set the record straight" by posting a statement to a Vietnamese Facebook group, but to no avail. 
The lala speciality eatery found itself a target of 60 one-star Google reviews on its profile within the span of 48 hours, from users with Western names.
The eatery maintained these reviews were "fraudulent" as some of the dishes reviewed were not even on the menu.
Wawa Lala Bee Hoon then noticed that the Vietnamese restaurant was receiving an influx of five-star Google reviews.
Curiously, the five-star reviews were left by western names as well.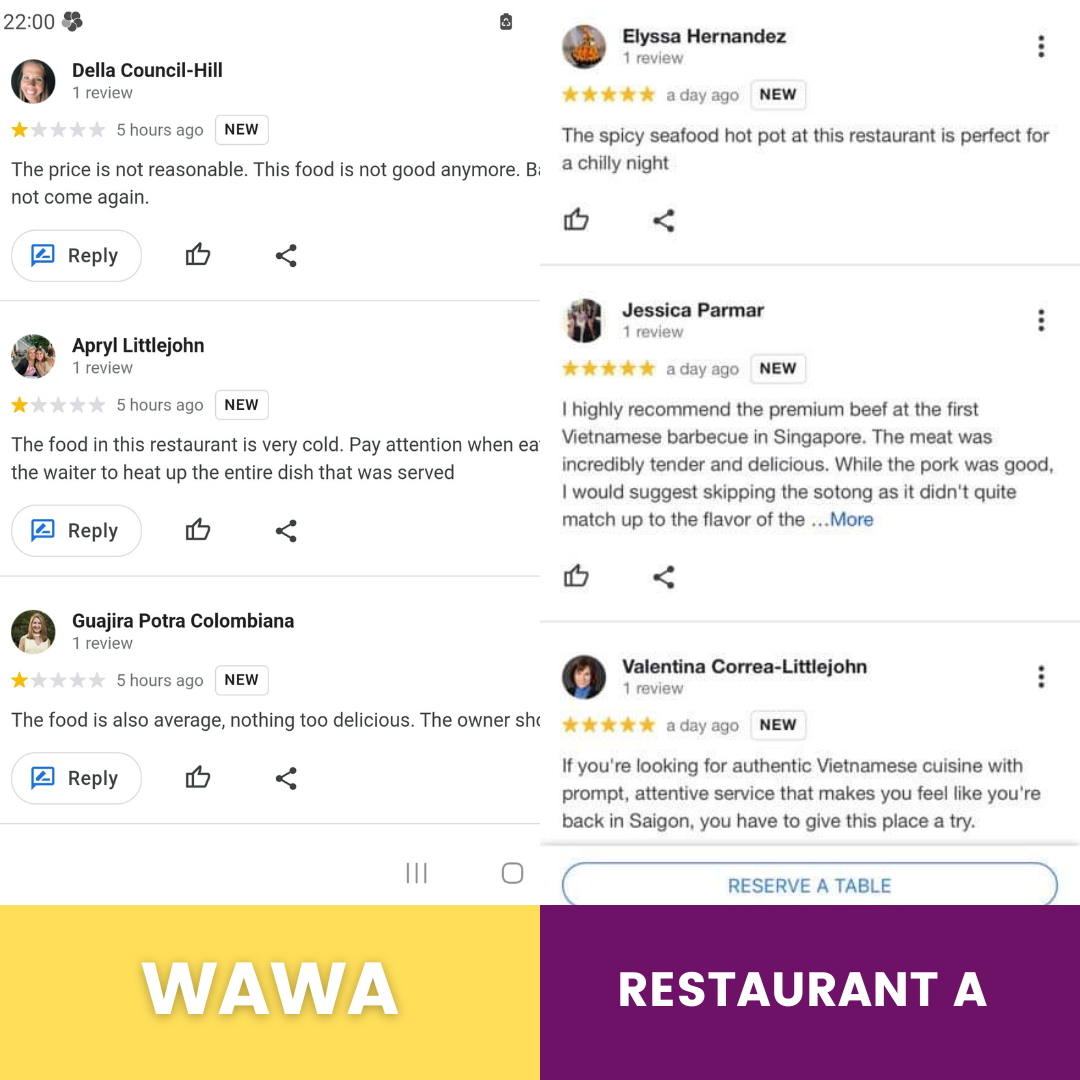 Wawa Lala Bee Hoon ended their Facebook post highlighting the importance of honest business practises.
However, when we checked the latest reviews on Apr. 1, it seems like the tables have turned.
WaWa has received a flood with positive reviews, perhaps from supporters, while the Vietnamese restaurant is seeing a number of negative reviews citing its poor business ethics.
Top image via WaWasg/Facebook.