On Mar. 9, 2023, Grab announced new services for airport ride-hailing bookings.
These new services include expanding GrabShare BETA to Changi Airport terminals two and three, booking Grab rides without downloading the app, and improving the Grab app experience for passengers in Changi Airport.
With passenger traffic volumes returning to 80 per cent of pre-pandemic levels and set to recover by 2024, the new services are intended for both overseas travellers and Singapore residents.
GrabShare BETA (Changi Airport)
GrabShare BETA will be expanded to Changi Airport terminals Two and Three in the evenings from 5 pm to 12 am, starting from Mar. 9, 2023.
This will help make services to and from the airport more affordable.
Under this service, two passengers travelling light and are not in a rush can share a Grab ride at a lower fare.
According to Grab, this latest version of the service has been redesigned based on user and driver partners' feedback. This ensures drivers do not have to make unnecessary detours when picking up matched passengers.
Other Changi Airport-specific improvements to GrabShare BETA include:
Grab stated that they will monitor the situation before assessing if the service will be available to more areas and timings.
Book Grab rides without the app
Grab will partner with WeChat and WhatsApp to help travellers book rides at Changi Airport without downloading the Grab app.
WeChat users can book the full range of Grab ride-hailing services through Grab mini programme when they arrive at Changi Airport.
Users can select this program when they select 'Mini Programs' under 'Discover' and search 'Grab'. They can then launch the Grab mini programme and book their ride.
WhatsApp users can book their rides through a chatbot accessible by a QR code where they can key in their pick-up and drop-off locations.
Once the ride is confirmed, details such as the estimated arrival time, driver details, and contact details will be provided.
Travellers can use WeChat and WhatsApp by the end of March 2023.
Improved Grab app experience
Grab has added a navigation tool in its existing Venues feature with in-app photo and text directions to get to users' selected pick-up points.
Users can look at images of each pick-up point before selecting the one they want.
They will also receive turn-by-turn directions to it before they book their ride.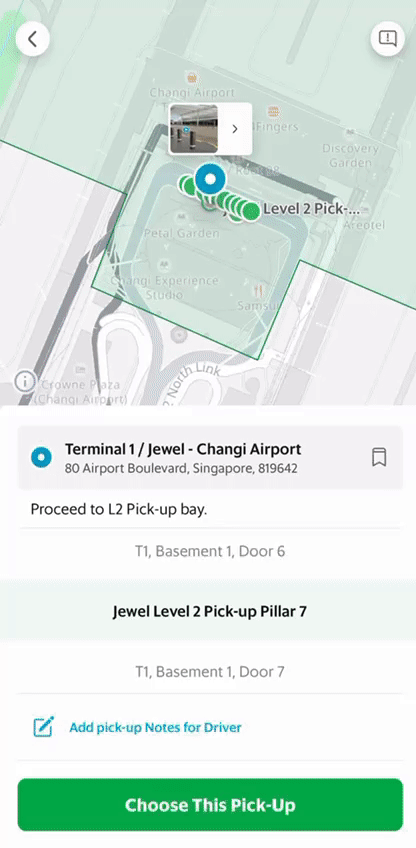 This will help users to more accurately select the pick-up point they want and get there quickly. It will also help reduce drivers' wait time and eases congestion at pick-up points.
In addition, Grab is looking to simplify its ride-booking screen so passengers at the airport can easily select the best vehicle option to accommodate their group size and luggage.
More details will be provided soon.
Top photos via Grab Singapore and Unsplash