What was supposed to be a relaxing night for a cyclist in Singapore quickly turned distressing when he found himself lost along Old Upper Thomson Road at 1:30am.
Left with intermittent internet connectivity to access Google Maps, the cyclist's last resort was to contact the police.
Through the live location he provided via WhatsApp, the police were able to get to him within five to 10 minutes.
How it happened
The cyclist, Henry, posted his little misadventure in a five-part series on TikTok.
@hh_henry260 #lost #police #singaporetiktok #storytime #sos #fypシ #singapore #adventure #cycling ♬ original sound – cls_henry26
Video of Upper Peirce Reservoir
In the first video, he filmed the scene from his point of view, facing a sign that read "Upper Peirce Reservoir".
"I am really stuck in the middle of somewhere. I really do not know where I am right now," Henry said.
"It's super scary," Henry shared, saying that he'll definitely never cycle alone again.
Henry explained that he had followed Google Maps down a road that stretched 1.2km.
After heading down the path, he expected to rejoin the main road, but was surprised to see that he had reached a dead end.
Contacting the police for help
In the second video, Henry showed screenshots of him contacting the police and sending his live location.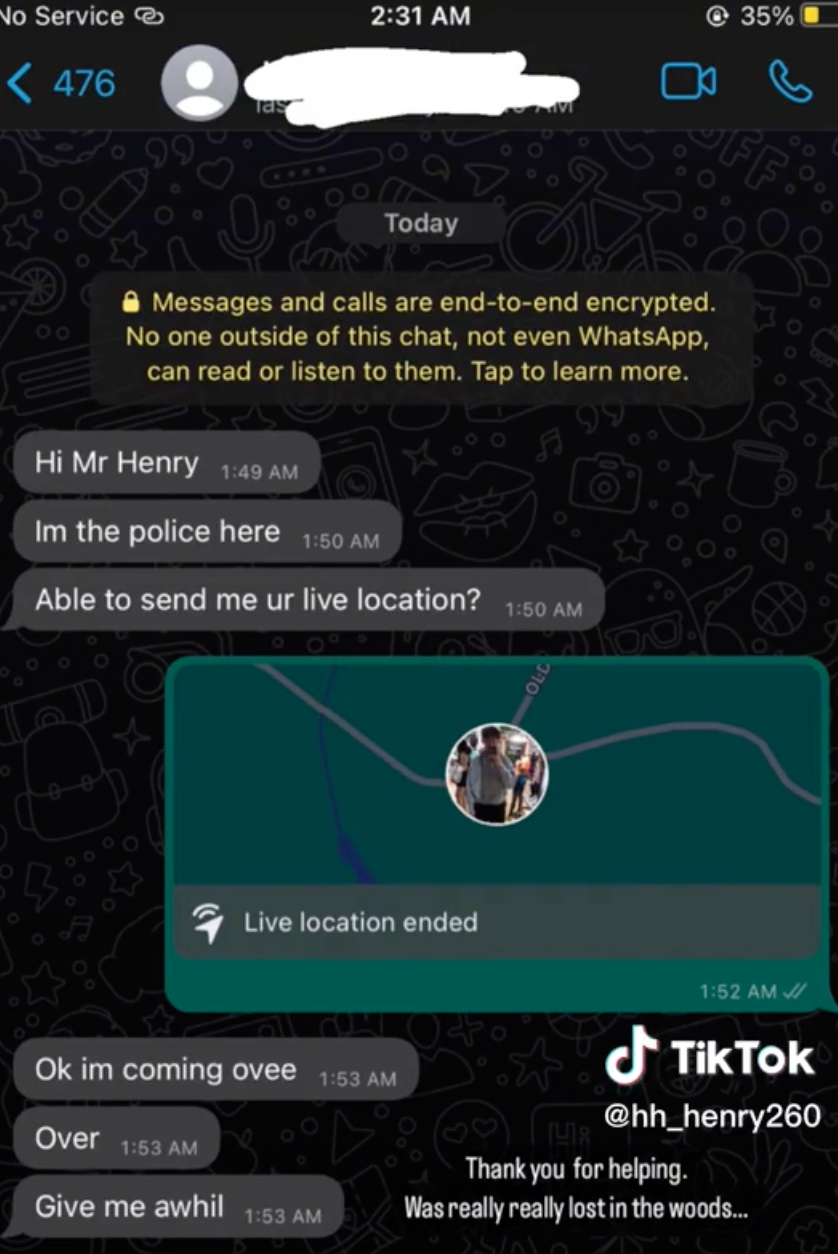 In the third video, Henry explained that he was taking a supposedly shorter route home.
In the fourth video, the cyclist said he stayed on the call with the police as he panicked, worried if wildlife, such as wild boars would appear.
After checking to see if Henry was alright and unhurt, the police drove behind Henry and guided him to the main road.
Explaining himself
In the fifth video, Henry stated that he was an amateur night cyclist and that he wasn't totally familiar with the route.
@hh_henry260 #lost #police #singapore #singaporetiktok #storytime #sos #fyp #fypシ #adventure #cycling #explanation #tourist ♬ original sound – cls_henry26
He frequently cycled from Bugis back to his home, but this was the first time he started his route from Ang Mo Kio.
Choosing this path as it was a shorter journey home, he had unfortunately meandered down the wrong path.
He explained that the route was "pretty confusing", so he used Google Maps to navigate.
However, he had hit a part where the signal wasn't strong enough to access Google Maps.
Out of options in the wee hours of the morning, he could only call the police for help.
Giving advice to first-time night cyclists, Henry advised others to "always do their research" before cycling, and to always cycle with a buddy or experienced friends.
He also advised viewers to take a leaf out of his book and to not panic when facing such scenarios.
Responses
Some of those who commented on the videos did not all take too kindly to Henry.
Chief among their gripes was that the cyclist could still have the frame of mind to document his misadventure on TikTok, when he was supposedly panicky.
Top photos via TikTok and Google Maps