A bus driver broke down out of concern that he would need to pay for his vehicle's cracked windscreen.
A video describing what happened went viral on TikTok, with Bugis as its tagged location.
The woman who posted the video explained that the incident happened on Friday (Apr. 14) morning while she was onboard the bus to work.
Forced to jam brake
She said the bus driver was forced to brake abruptly as he did not notice a motorcycle in front of him.
The windscreen cracked as a result.
Some commenters theorised that the man dressed in a long-sleeved red t-shirt in the bus could have hit the windscreen when the driver jammed on the brakes.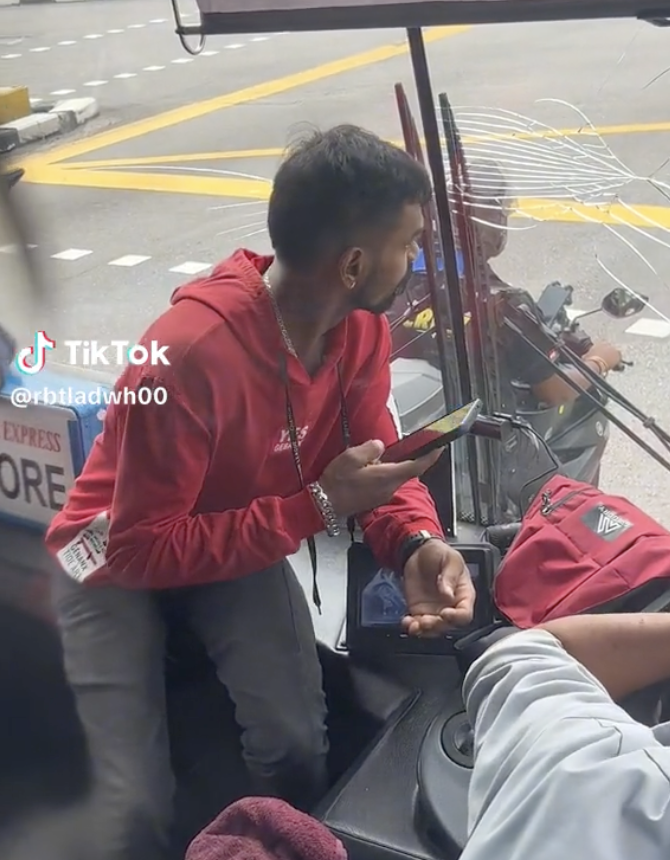 Broke down because he was worried about the cost
The woman who posted the TikTok video explained that the driver broke down after the windscreen cracked.
According to her, he kept saying: "How to pay for this… How to pay for this?"
She wrote:
"I teared up because I was reminded of my own father. Plus, it's Hari Raya soon. This uncle's name is Uncle Abdullah."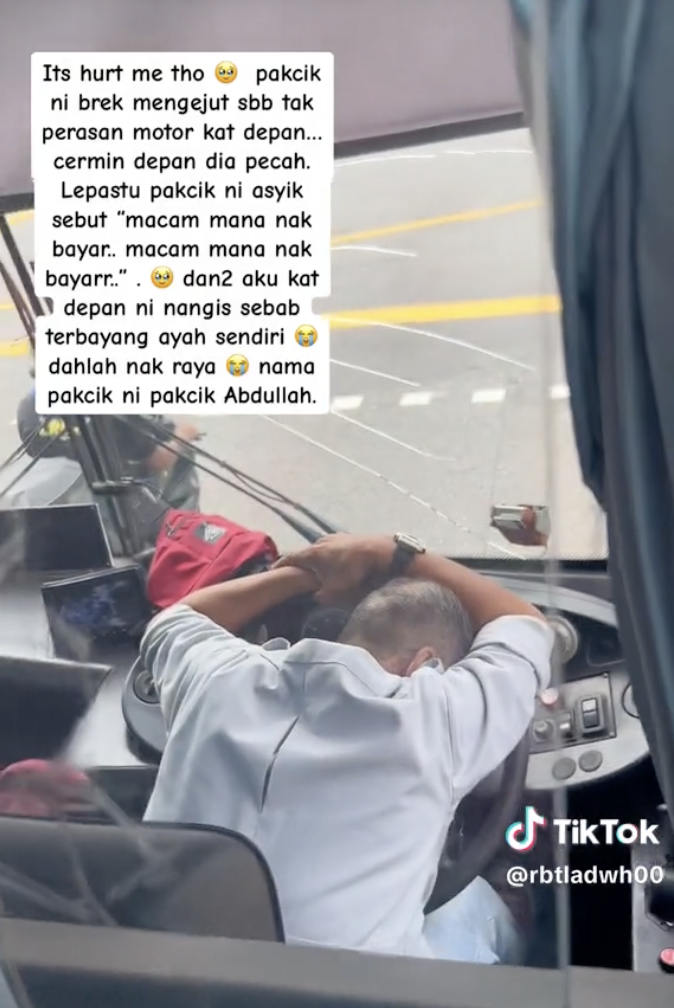 Towards the end of the video, the driver is seen slumped over the steering wheel.
In the video's caption, the woman said that the driver lives in Pasir Gudang, Johor Bahru.
She added that she has taken down the driver's number and urged others to help raise funds for him.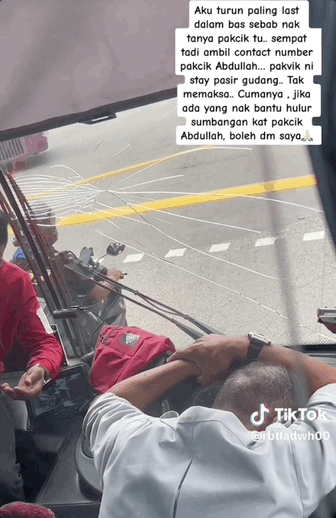 Here is the full TikTok video:
@rbtladwh00 Auto teringat ayah sendiri 😭 #runsgd🇸🇬🇸🇬🇸🇬🇲🇾🇲🇾🇲🇾 #fypシ #tiktoksg🇸🇬 #fypsg♥️ #accident ♬ Sad song by piano and violin(886018) – NOVA
Company will bear cost of damage
In a subsequent video posted on Saturday (Apr. 15), the woman said the bus driver shuttles passengers between Singapore and Malaysia for a living.
She explained that she has managed to contact the driver since the incident happened.
She assured her viewers that the driver is doing fine, and that he has filed a police report.
She also said his company will bear the cost of the damage.
The woman also uploaded another video to clarify that everything "has been settled" and that the driver does not have to pay for anything.
She expressed her gratitude to the many viewers who had offered to help the driver when the first video was posted.
As of Apr. 15 at 8pm, the intial video of the bus driver has garnered over 1.7 million views.
Top images via rbtladwh00 on TikTok.