A news channel in India wrongly announced Prime Minister Lee Hsien Loong as the "outgoing" prime minister, and president-elect Tharman Shanmugaratnam as the "new prime minister" during the Group of 20 (G20) Summit.
A big blunder
The gaffe occurred during the live G20 Summit broadcast on YouTube by India Today TV on Sep. 9.
A commentator incorrectly said on air: "Tharman Shanmugaratnam is the new prime minister, [Lee Hsien Loong] is the outgoing one now."
In the video, PM Lee was seen walking down the red carpet and met India's PM Narendra Modi.
Tharman was not present at the event.
Although the original video has been taken down, according to Gutzy Asia, it has been circulated on several social media platforms.
@justjsss #wakeupsingapore #tiktoksgviral #tiktoksg🇸🇬 #sgnews #sgtrending #mediafreedom #Singapore ♬ original sound – Jay
Those who saw the clip expressed amusement and disappointment at the blunder.
One said: "So funny… where did they get this information?"
Another commenter stated: "Really unprofessional and uneducated journalism from India. Why can't they get the facts right?"
The following day on Sep. 10, India Today addressed and clarified the error on its website, saying:
"During the live commentary of the G-20 Leaders Summit, it was inadvertently said on India Today that Prime Minister Lee Hsien Loong is the 'outgoing prime minister' and will be 'replaced' by Mr. Tharman Shanmugaratnam.

Regretfully, both the above information are factually incorrect.

Lee Hsien Loong is the current prime minister of Singapore.

Tharman Shanmugaratnam is the President-elect of Singapore."
The commentator also wrongly labelled Tharman as "Indian-origin" and "Tamilian".
However, Tharman's ancestors were from Sri Lanka, according to The Straits Times.
The Indian news service has not clarified this error.
Why was PM Lee in India
Multilateralism and sustainable development
PM Lee was in India from Sep. 8 to 10 to attend the Summit at the invitation of Modi, the Prime Minister's Office announced.
PM Lee met Modi and congratulated him on the successful Summit.
As the president of this year's summit, India was aiming to promote inclusive growth and sustainable development under the theme of "Vasudhaiva Kutumbakam" or "One Earth, One Family, One Future".
During the summit, PM Lee reportedly recognised that multilateralism has been "weakened".
He called for G20 members to "refresh the mandates and rules of existing multilateral institutions" to address current global challenges.
On the topic of sustainable development, PM Lee also urged G20 countries to cooperate to fund private and public efforts to combat climate change, saying, "Governments alone cannot do all of this."
He also expressed his optimism that the collaboration will benefit Singapore greatly to tackle the climate crisis.
"Singapore is a low-lying, alternative-energy disadvantaged island-state. We therefore appreciate the inherent challenges in climate transitions. However, we believe that new technologies, new financing models and new markets offer us hope."
Singapore-UK Joint Declaration on Strategic Partnership
PM Lee and British prime minister Rishi Sunak met on the sidelines of the summit on Sep. 9, and issued a joint declaration to elevate Singapore-United Kingdom relations to a strategic partnership.
Both countries aim to strengthen their cooperation in trade and investment, as well as science and technology. The partnership has also expanded to new areas, such as sustainability and green economy.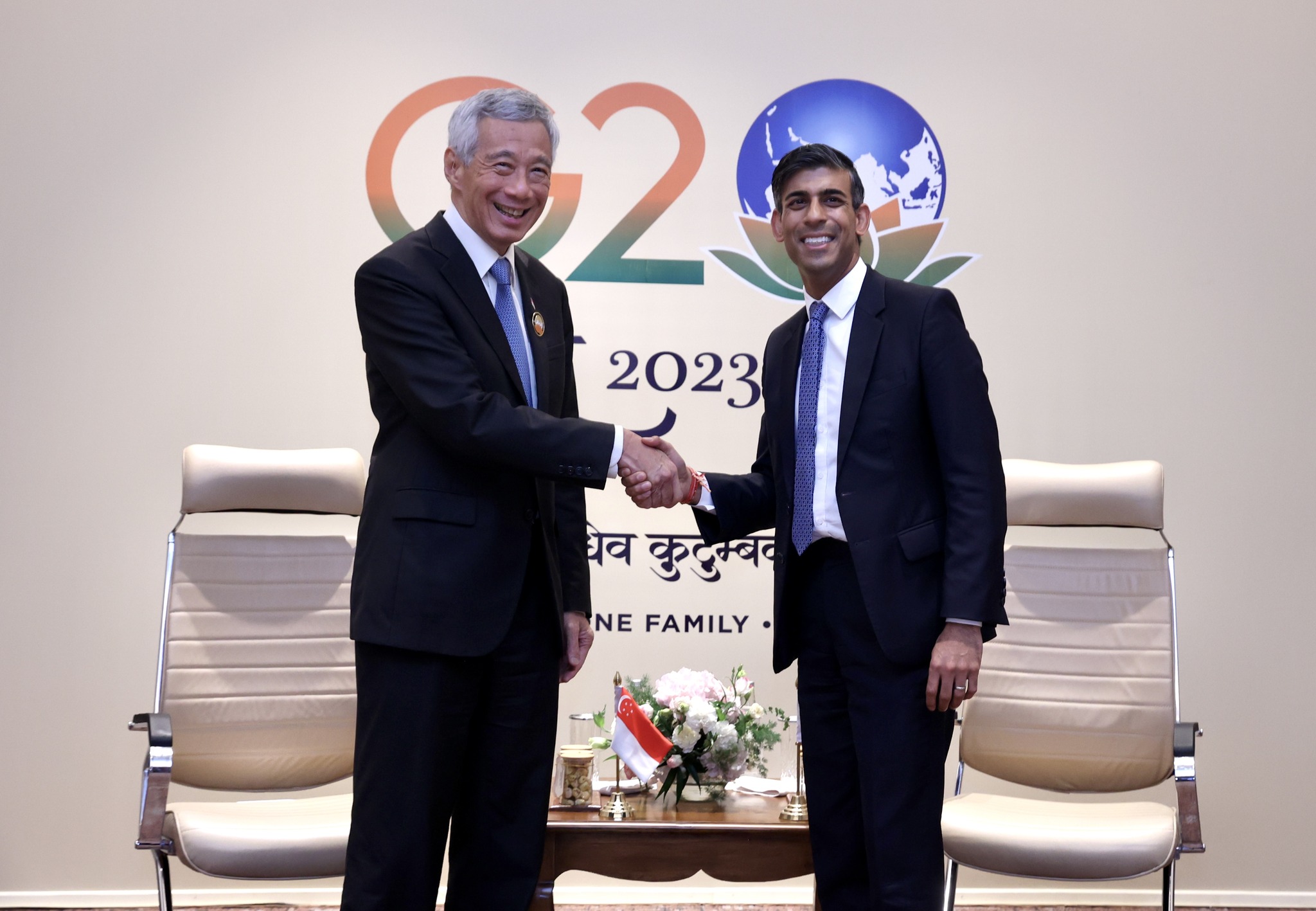 PM Lee congratulated Sunak in October 2022 when he became UK's new prime minister. This is their first time meeting in-person at the G20 Summit.
Background
Tharman won the 2023 presidential election in a 70.4 per cent landslide victory.
He will be inaugurated as Singapore's ninth president on Sep. 14 at the Istana.
Despite the Covid-19 pandemic, PM Lee's political succession plans are now back on track.
Though experts said on CNA that PM Lee is unlikely to step down by 2024, he will be passing on his leadership role to DPM Lawrence Wong in the next general election by November 2025.
Top image via India Today