A man found an injured Barn Owl along Tanah Merah Coast Road, and turned it over to NParks for rescue, but was distressed to learn that the owl was subsequently put down.
Attempted rescue
On the evening of May 4, Facebook user Rashwinder Singh was driving along Tanah Merah Coast Road when he found an injured owl, later posting about it to the Facebook group Singapore Wildlife Sightings.
Wrapping the bird in a blanket that he had in his car boot, Singh placed the bird in the back seat of the car, and brought it to his home in Toa Payoh, and later handed the bird over to NParks.
But a subsequent report by The Straits Times (ST) revealed that the owl had been euthanised by NParks, who had assessed that the likelihood of the owl's recovery was poor.
In a follow up post on May 6, Singh revealed a source of annoyance amid his attempted rescue of the bird.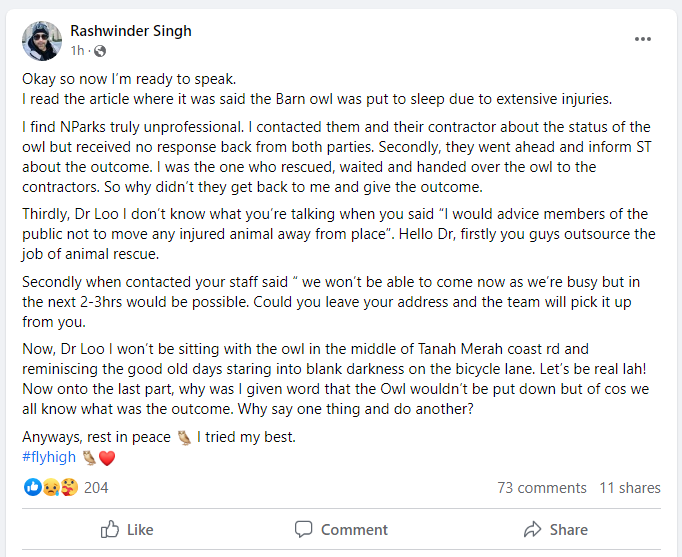 He initially said that he found NParks to be "unprofessional" because despite his effort in rescuing the owl, as well as waiting and handing it over to NParks' contractors, neither NParks nor its contractors had kept him updated with its status.
This was despite efforts on his part to contact them for updates.
Instead, Singh said, NParks had spoken to ST, revealing the grim outcome of the owl there, which is presumably how Singh found out.
In the ST report, NParks' group director of wildlife management Adrian Loo said the owl had been brought to NParks' Centre for Wildlife Rehabilitation, but found that the owl had multiple wing fractures.
The owl was also in poor condition and "barely responsive". It was thus "humanely euthanised" in order to minimise further suffering.
"Let's be real"
Singh also took issue with advice given by Loo via ST, that members of the public who encounter an injured owl should alert the NParks Animal Response Centre and refrain from moving the bird.
This is the same advice given on NParks' website.
Singh said that when he contacted NParks, staff told him that it would take two to three hours to arrive, as they were busy. They then asked Singh for his address, saying that their team would pick it up from him.
Singh expressed his annoyance at both the advice and the response received, describing his situation had he adhered:
"Sitting with the owl in the middle of Tanah Merah Coast Road and reminiscing the good old days staring into blank darkness on the bicycle lane. Let's be real lah!"
Tanah Merah Coast Road is on the far side of Changi Airport and is quite remote, its most outstanding feature is its regular use by heavy industrial vehicles and fast moving cyclists, due to construction work around the area and its long cycling lane.
Singh may have felt that moving the bird was the only way to assure its safety, highlighting the difficulty members of the public face when trying to decide what the best course of action is for injured animals.
Singh also further expressed his dismay at the bird being put down as he said he was given word that the owl would not be put down.
"Why," he lamented, "say one thing and do another?"
Apology and improvement
But in an update to his post, later on May 6, Singh revealed that he had been called by Loo.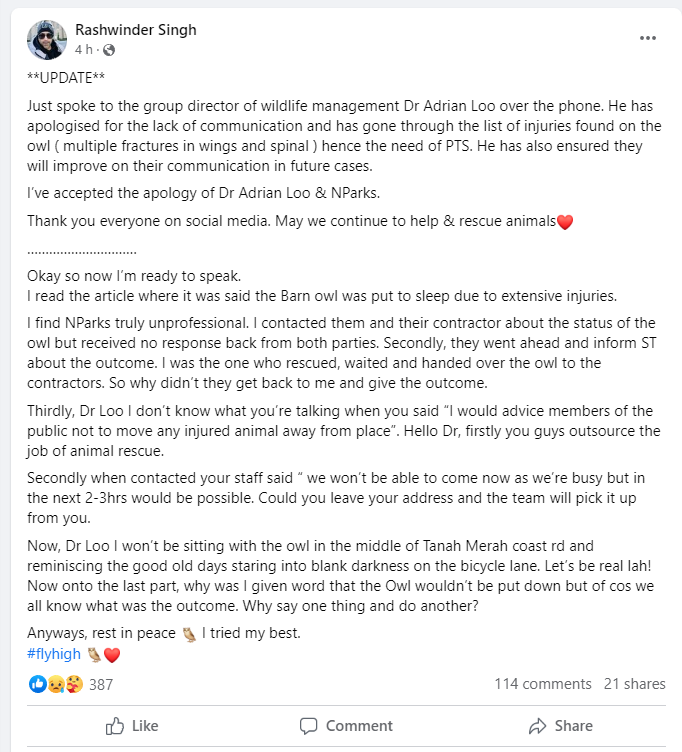 Loo apologised for the lack of communication by NParks, and went through with Singh the list of injuries, saying that in addition to the multiple wing fractures, the bird had also suffered spinal injuries, thus the need for it to be euthanised.
Loo also said that NParks would improve their communications efforts in future cases.
Singh has said that he accepted the apology from Loo and NParks, saying that he hoped fellow group members would "continue to help and rescue animals."
You might enjoy
Top image via Rashwinder Singh/Facebook