A man in China was slapped, made to get on his knees, and forced to eat faeces, among other things, after his alleged abuse of cats came to light.
Adopted stray cats, filmed himself abusing them
Videos of the man's punishment have made their rounds on the Chinese interweb, with multiple local reports covering the incident.
According to Global Times and Southern Metropolis Daily, the man, surnamed Lee, supposedly got his hands on several cats, under the guise of adopting them, only to torture them.
Lee, who is an office worker in Suzhou, an eastern city in China, also apparently filmed himself abusing these cats, uploaded the videos, and made provocative comments.
Some of the cats reportedly perished as a result of Lee's actions.
Gets ambushed by angry cat lovers
Lee got found out after an individual saw a video that he posted, showing that he was going to adopt a kitten at a commercial plaza.
The individual, who was overseas, sounded the alarm to 12 or so cat lovers from all over China.
Outraged, this group of feline lovers banded together to take justice into their own hands.
A total of eight individuals descended upon Lee at a commercial plaza in Suzhou on Feb. 25, 2023.
There, they surrounded the unexpecting Lee, and hurled insults at him.
Admitted to killing five cats
Lee was then taken to another location, where the individuals slapped and kicked him to make him confess to his actions.
They apparently also made Lee kneel on the ground, smeared faeces on his face, and forced him to ingest some of the faeces.
Global Times, as well as other media, did not specify the faeces' origins, but an individual on Chinese social media platform Weibo wrote that it was human waste.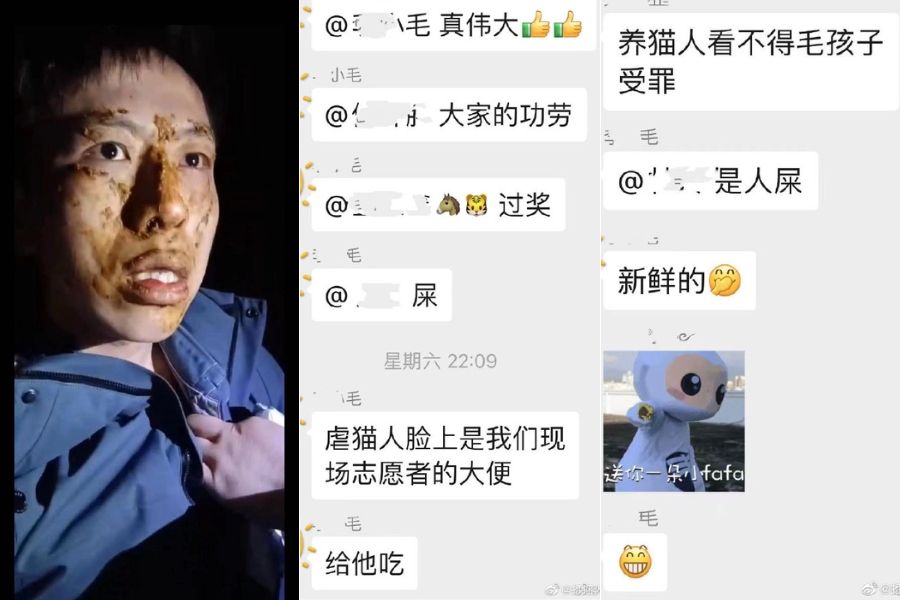 In one of the videos, Lee could be heard admitting to killing five cats while two other individuals held on to him with another cursing at him and filming the interaction.
It is unclear where the video was shot.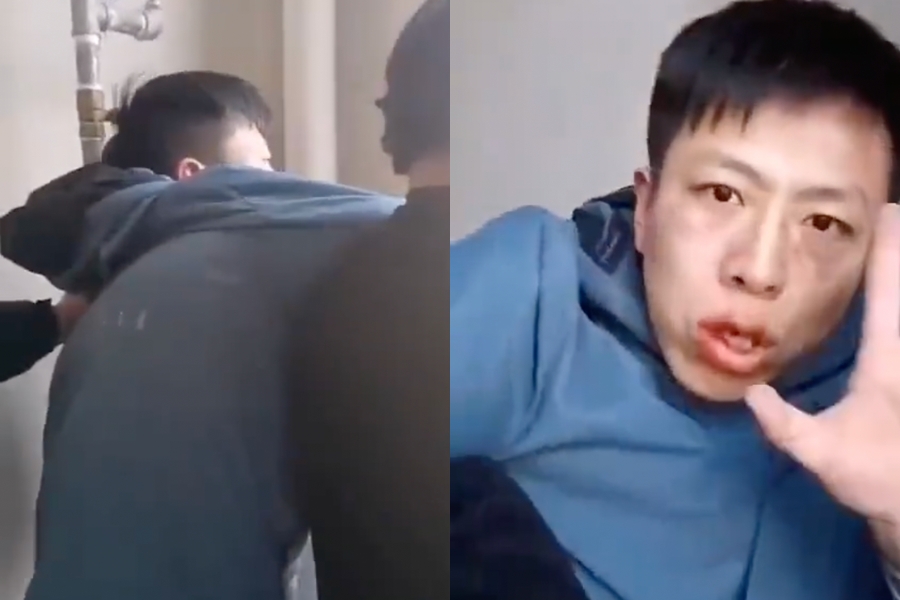 Police: Case is currently under investigation
He was reportedly left bruised and bleeding after the encounter, which lasted through the night.
Videos of his punishment were uploaded online, where it went viral and caught the attention of local authorities.
On Mar. 1, police from the Wuzhong (hanyu pinyin) district in Suzhou wrote that they have launched an investigation into the matter, adding that Lee and all the involved parties will be dealt with according to the law.
Animal protection group denies attack
There is speculation that Lee's attackers are from the Suzhou Small Animal Protection Volunteers Association (SSAPA).
However, a SSAPA spokesperson told Hong Xing Xin Wen that the association is not involved in the incident.

Top image from Weibo