A Malaysian employer decided to reward an Indonesian employee working for him with a fully-paid and brand new Proton Saga, according to Sin Chew Daily.
The man, Xu Hui Xing, is an employer of a garment-manufacturing company in Pontian, while the worker, named Yanto, has reportedly worked for the company for more than 10 years.
Boss fully paid for Proton Saga
Based on a TikTok video posted by a salesperson of Proton, Xu reached out to ask if they had any available Proton Saga models in stock as he wanted to buy one for his Indonesian employee.
@viviproton 很有福气的一位员工 老板送大礼给他作为奖励🎁🎁 顾客说 这是他一位很好地员工 👍#viviproton #汽车销售顾问 #congratulations #proton #sales #advisor #johor #送员工的礼物 ♬ 原聲 – Hs Vivi Proton
Yanto was speechless when he arrived at the car showroom and appeared very touched.
He thanked Xu for the gift and took photos with both his employer and his new Proton Saga.
He then went to open the car doors and turn on the ignition, smiling in awe afterwards.
The rest of the video depicted Yanto signing documents, hugging the car, getting seated in it before driving off with a smile.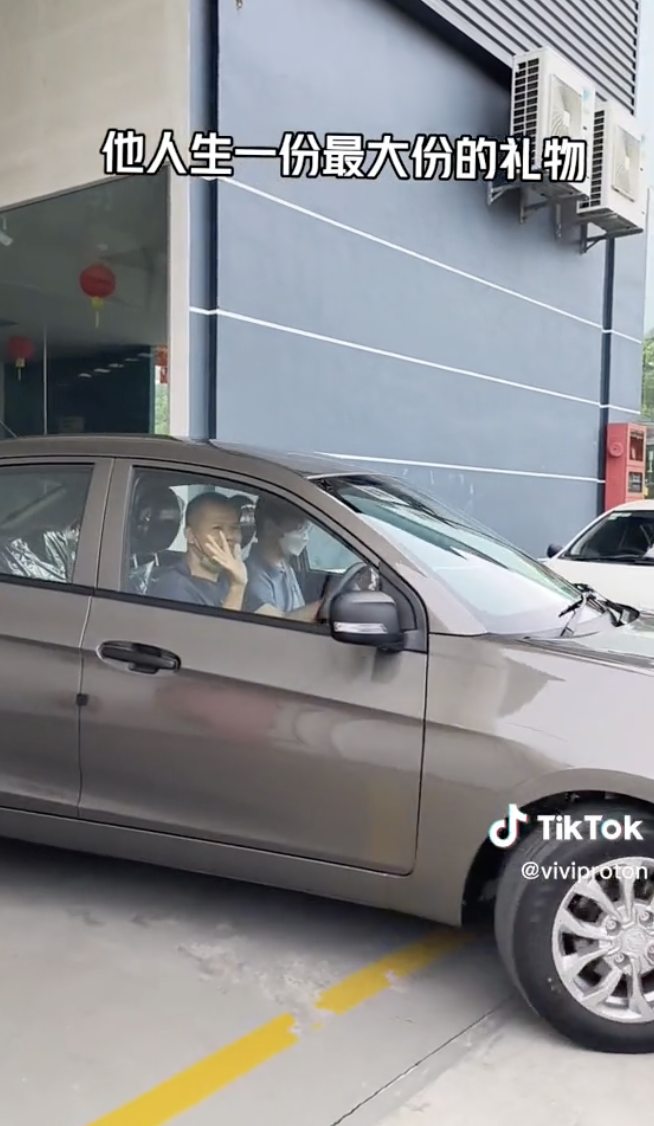 Xu also decided to pay for the car in full as foreigners like Yanto are not eligible to get loans to purchase a car in Malaysia, China Press reported.
Hardworking employee
According to Sin Chew Daily, Yanto started working for Xu's company soon after its establishment and continued to work hard through the Covid-19 pandemic.
On Jan. 11, Xu told Yanto to come to the car centre in order to meet a client to take measurements, keeping the gift as a surprise.
Only after Yanto arrived and saw the Proton Saga adorned with a big red bow did he realise that it was a gift for him.
Netizens heart-warmed at the act
Many online commenters praised Xu for his actions and congratulated Yanto, leaving comments under the TikTok video.
Comments said:
"It is difficult to find a good boss, hope the worker continues to strive for his best for him"

"Congratulations. Thanks Boss"

"This should be what one gets for following a good boss"
Others also expressed envy towards Yanto:
"I worked for my boss for 20 years, didn't even get anything"

"I wish I also had this kind of boss"

"Boss, are you still hiring?"
Yanto was also said to have achieved a promotion to the position of supervisor and is in charge of tailoring, as well as guiding other employees, Sin Chew Daily reported.
Related articles:
Top images via TikTok/@viviproton