A Malaysian loan shark has issued a Facebook apology after splashing the wrong house with red paint.
Twice.
Affecting the 'normal life of others'
The loan shark posted in Mandarin on the Batu Pahat Facebook group, showing a house splashed with red paint, as reported by Hype.my.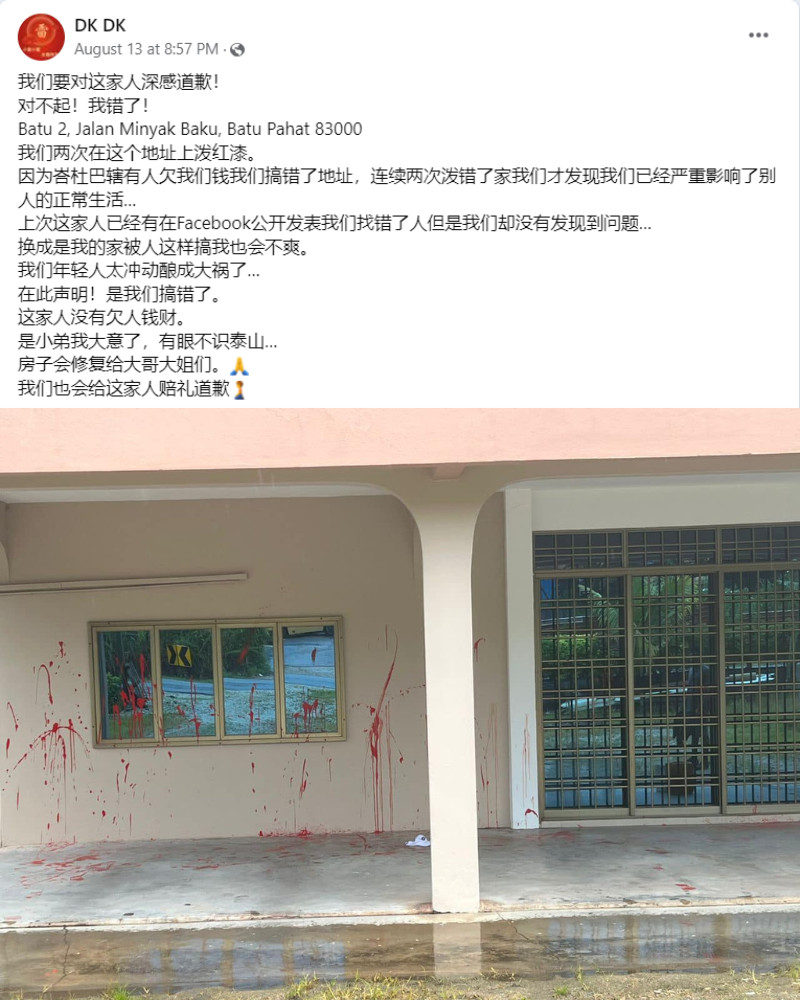 And while posts like these are not exactly uncommon, it is rare for such a post to begin with a profuse apology.
We would like to deeply apologise to this family! sorry! I was wrong!
The post went on to say that the loan shark had splashed red paint twice at the same address, but had gotten the address wrong as they did not know the town of Batu Pahat well.
They did not initially realise their mistake and "it has seriously affected the normal life of others."
Elder sibling targeted, not younger sibling
The loan shark acknowledged that the family had previously posted on the Facebook group to say that the loan sharks had got the wrong house, but said they had not noticed the post.
The loan sharks then clarified it was the younger brother who had borrowed money from the loan sharks, but the home of the elder siblings was targeted instead.
The loan sharks apologised again, saying they had been careless and that the family of the house owed no money.
Then in a rare occurrence, the loan sharks not only apologised, but offered to repair the house, presumably at the loan shark's expense.
This was capped off with a kneeling emoji.
Credit where credit is due
Commenters on the post praised the "humble ah long", with one quoted on noodou.com as saying "it really is different when the ah long reads books".
Ah Long is a colloquial term for loan shark.
Hype.MY quoted another commenter as saying that the loan shark was more reasonable than the loanee.
Mind you, all the loan shark agreed was to compensate a victim for mis-targeted vandalism, which is the very least one should be expected to do.
Some commenters were far more sceptical, suggesting that the loan shark had likely offended a person with more powerful connections, and was being forced to apologise.
At the very least, looking up the address provided on the initial post (which has since been deleted) reveals that the house is actually a place of business.
The house also could be easily identified because its business name is clearly painted on the front, leading to the question of how such a mistake was made.
But the loan shark apologised for vandalism, so maybe all is forgiven.
Related stories
Top image via Batu Pahat Facebook group