Mural artist Yip Yew Chong's labour of love, an impressive 60m-long painting of Singapore in its bygone days, has been completed.
The painting, which is 10m longer than the length of an Olympic-sized swimming pool, comprises 27 panels connected together.
Each panel depicts an area in Singapore, although Yip makes it clear that while certain iconic buildings in the paintings are real, the arrangement of the streets and structures is completely fictional.
Painting was originally meant to be 50m
Yip first embarked on this ambitious project in August 2021, drawing inspiration from a Chinese painting similar to the famous 5.25m-long Song dynasty painting, "Along the River During the Qingming Festival".
He decided that his own project would reflect an amalgamation of scenes in Singapore from two specific decades — the 1970s and 1980s — as these represented periods of change, both for the nation and for him.
Yip had originally planned for the painting to be 50m long and to complete it in a year, in August 2022.
However, he decided to add in four more panels at the last minute, for both practical and nostalgic reasons, which illustrate places such as Caldecott Hill ("because it is representative of radio and TV") and the Southern islands ("[because] I didn't really have one panel that has a lot of sea and I found it hard to join Haw Par Villa to the city.")
He thus extended his completion date by another six months.
Live painting
For the past one-and-a-half years, Yip has been working on this project in solitude in his studio.
Although he doesn't find the extensive process a drag, it has prevented him from working on other projects, he told Mothership.
"Actually it's very enjoyable. Not sian, I never get tired. But it's just that because, you know, you have to finish it, it takes time and it takes up your time for other things."
The last panel and final puzzle piece to the 60m canvas saw Yip painting Tiong Bahru's iconic flats with its spiral staircases during several live painting sessions between Jan. 10 and 15.
Members of the public were invited to observe the painting process at Tiong Bahru Community Centre.
"To me, doing this last leap to the finishing line with the community, will be a nice touch to this long journey," he shared on his social media.
When Mothership went down to observe the process on Jan. 13 in the late afternoon, Yip had already completed three-quarters of the final panel.
The sliver of blank space left, Yip said, would be a street market.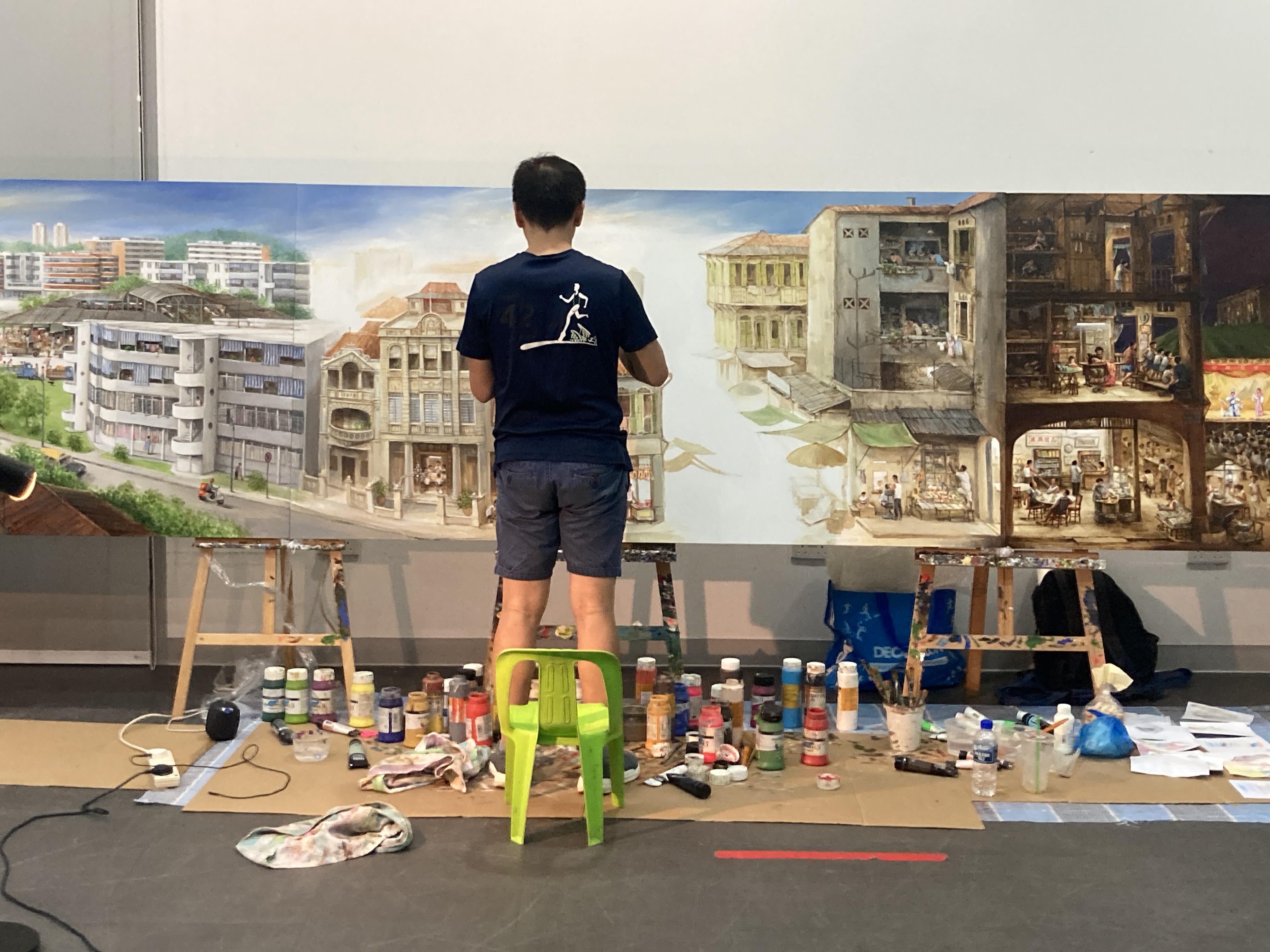 At the time, only a few silent observers were in the room, including a family with a child doing her own drawings alongside Yip, and a woman sketching Yip painting.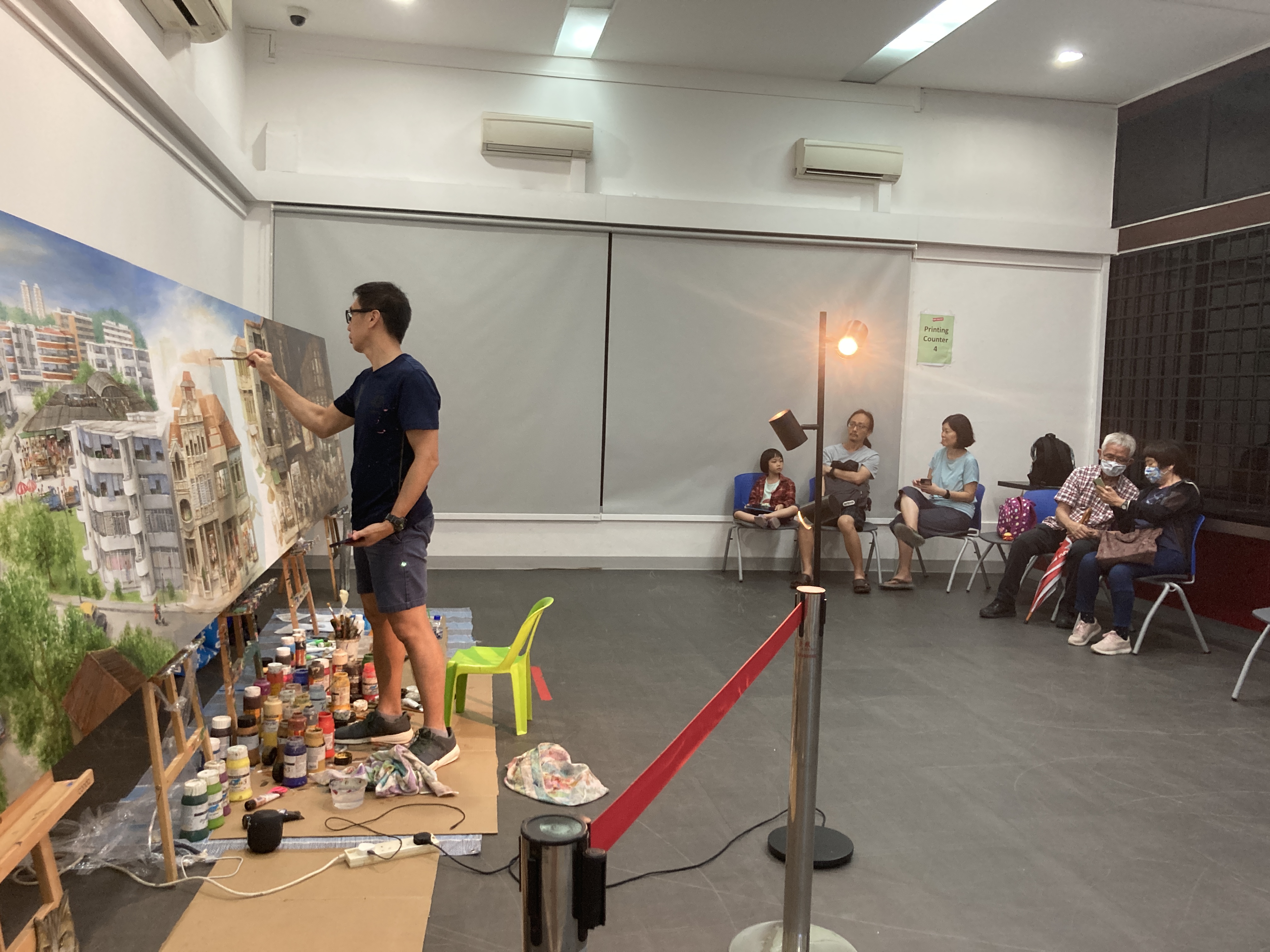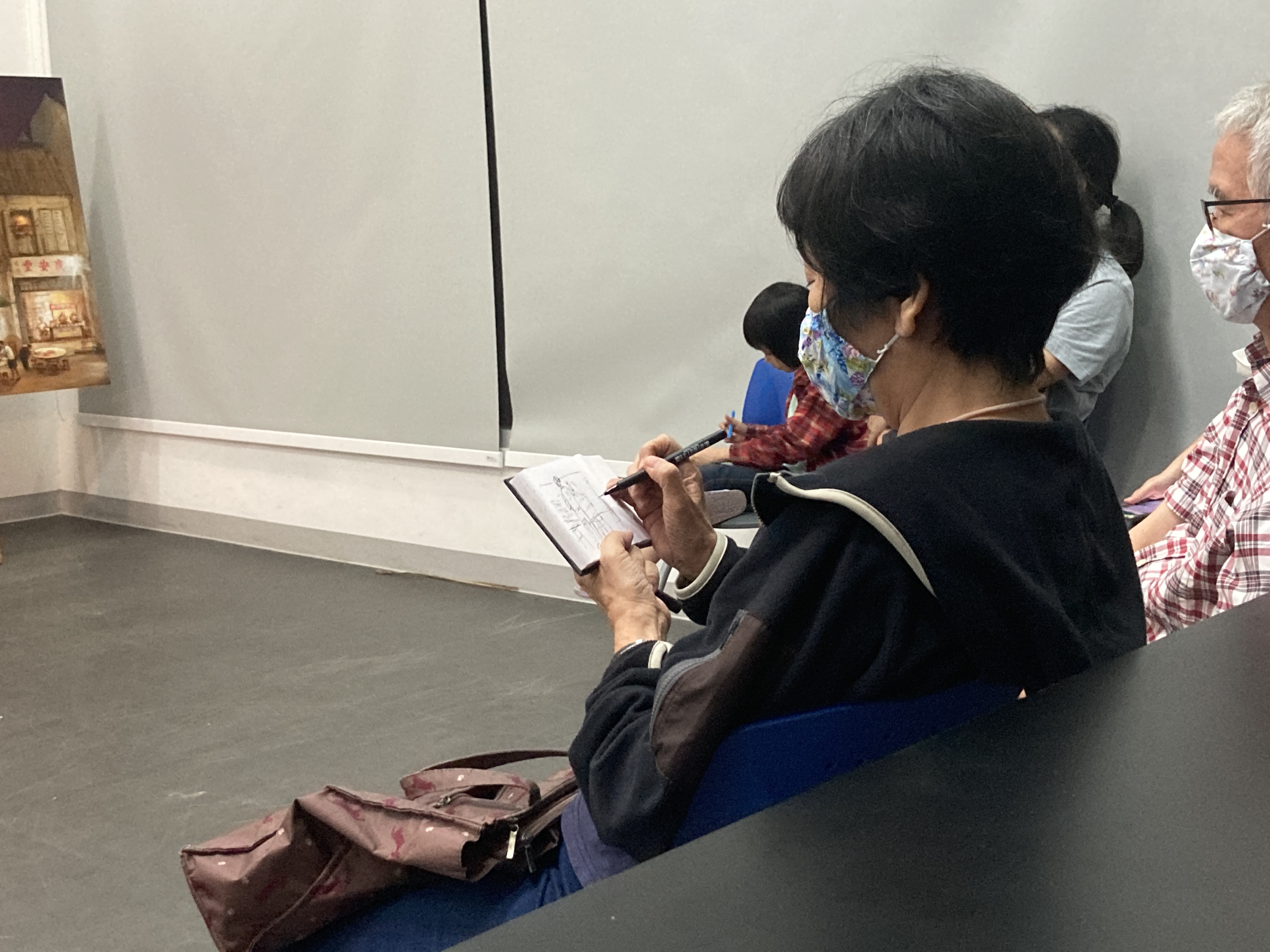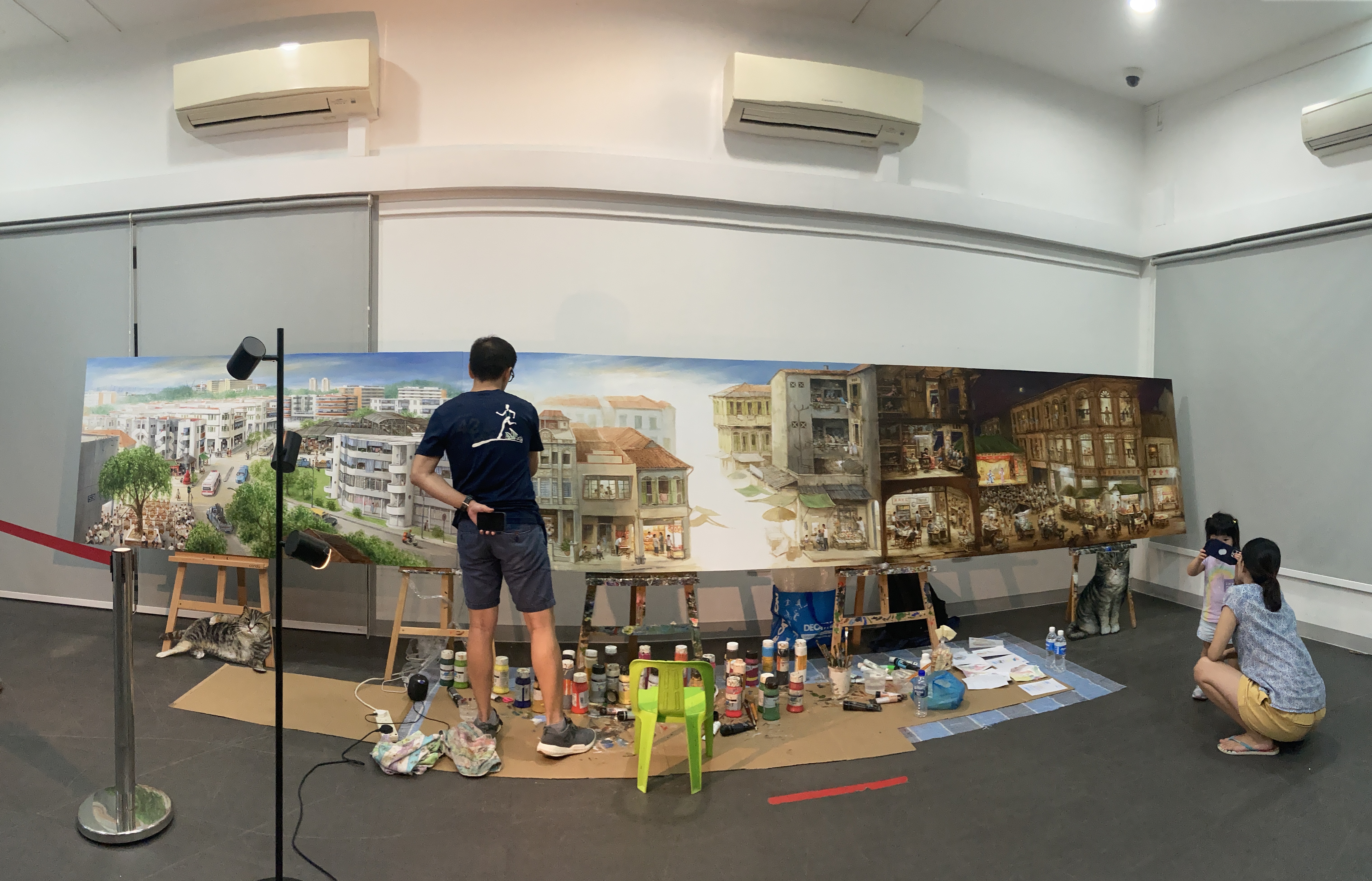 The live painting drew large crowds on certain days.
His painting also stirred up some emotional responses from those watching, who were reminded of old memories and past experiences.
Yip recalled one viewer who shared with him that the painting conjured up memories of her grandmother who had passed away six months ago.
The woman's grandmother had apparently stayed in the ground-floor unit of the exact same flat depicted in Yip's painting, and she believed that the figure painted inside the unit could almost have been the elderly woman.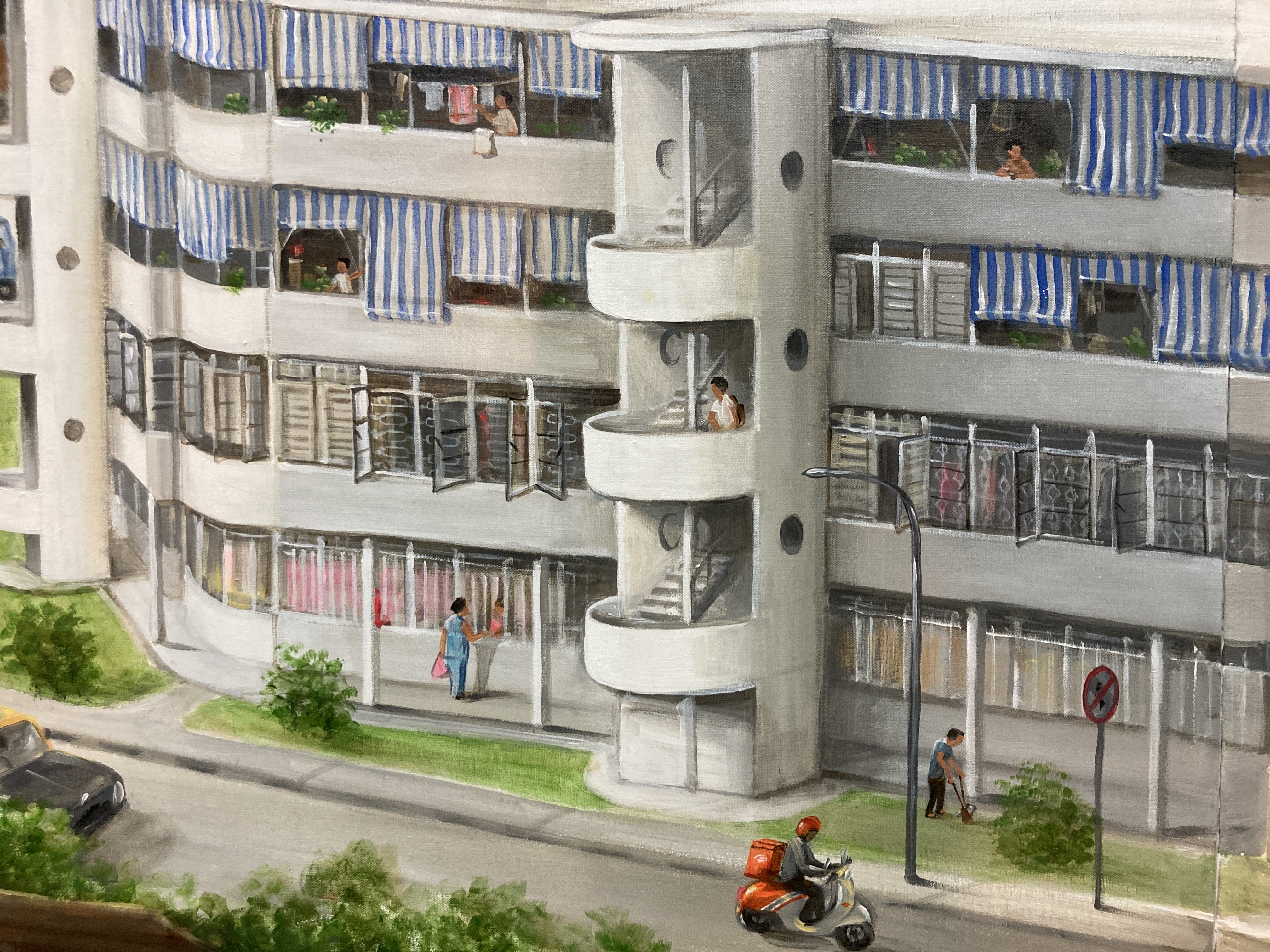 Plans for an exhibition
When asked how he feels about finally reaching the finishing line, Yip stated succinctly: "Relief. Happy. Happy that it's finally almost done. Dream come true."
He added: "Also a little sad because I enjoyed the journey and it's going to be over soon."
On Jan. 15, at around 4pm, Yip daubed the last stroke on the painting, marking its completion.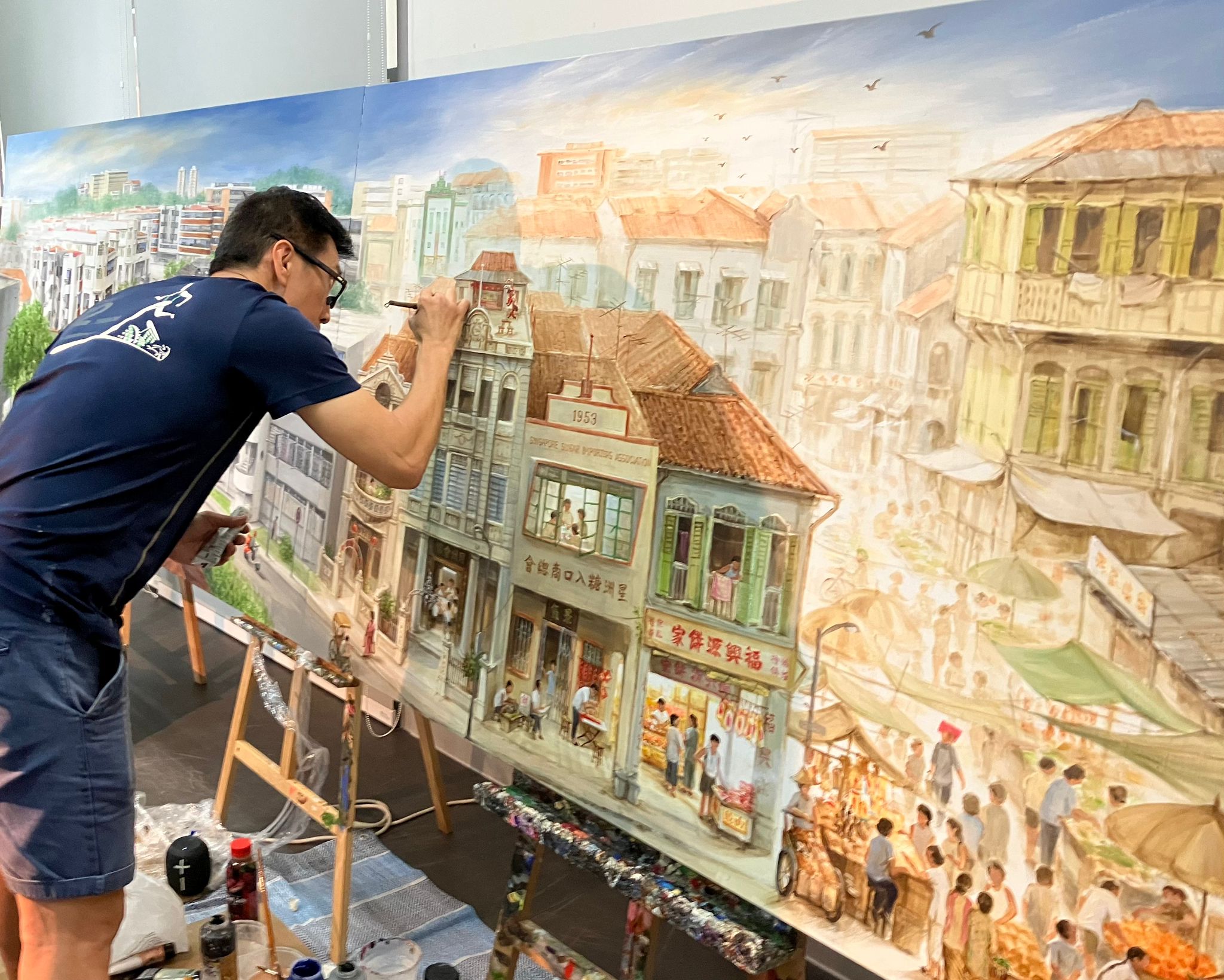 Here's what the final panel looks like: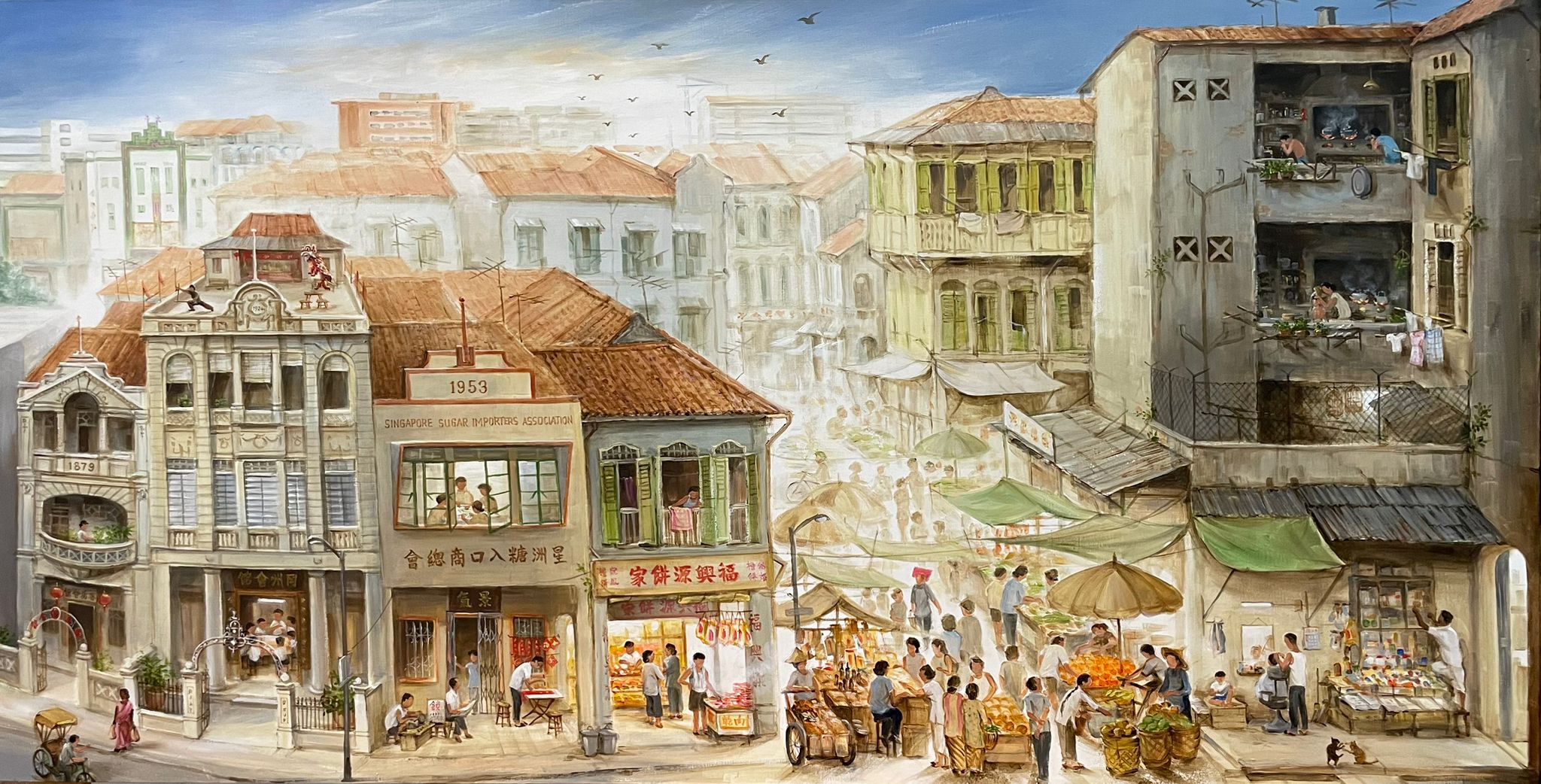 And here are a few close-up snippets of the last two panels: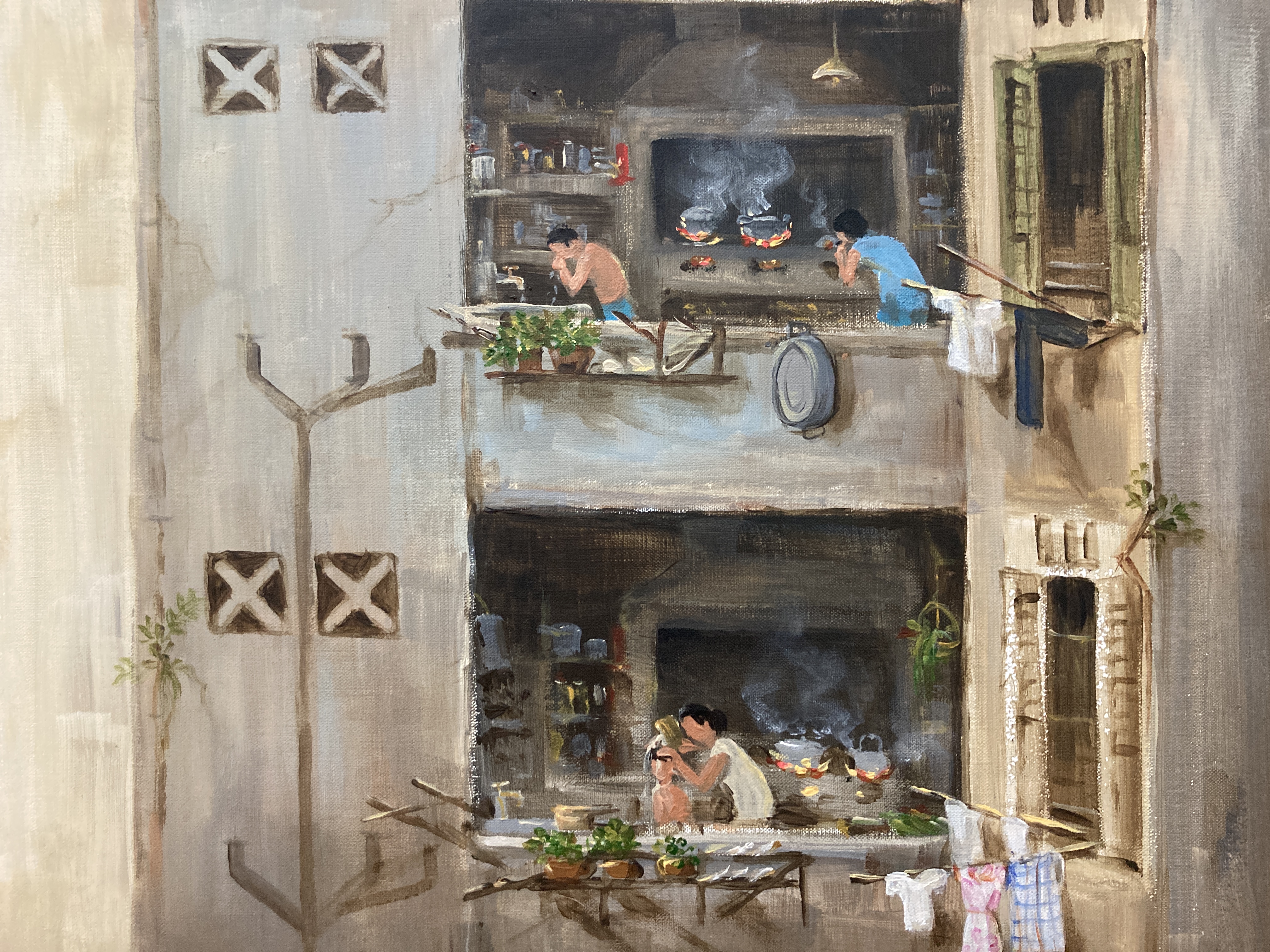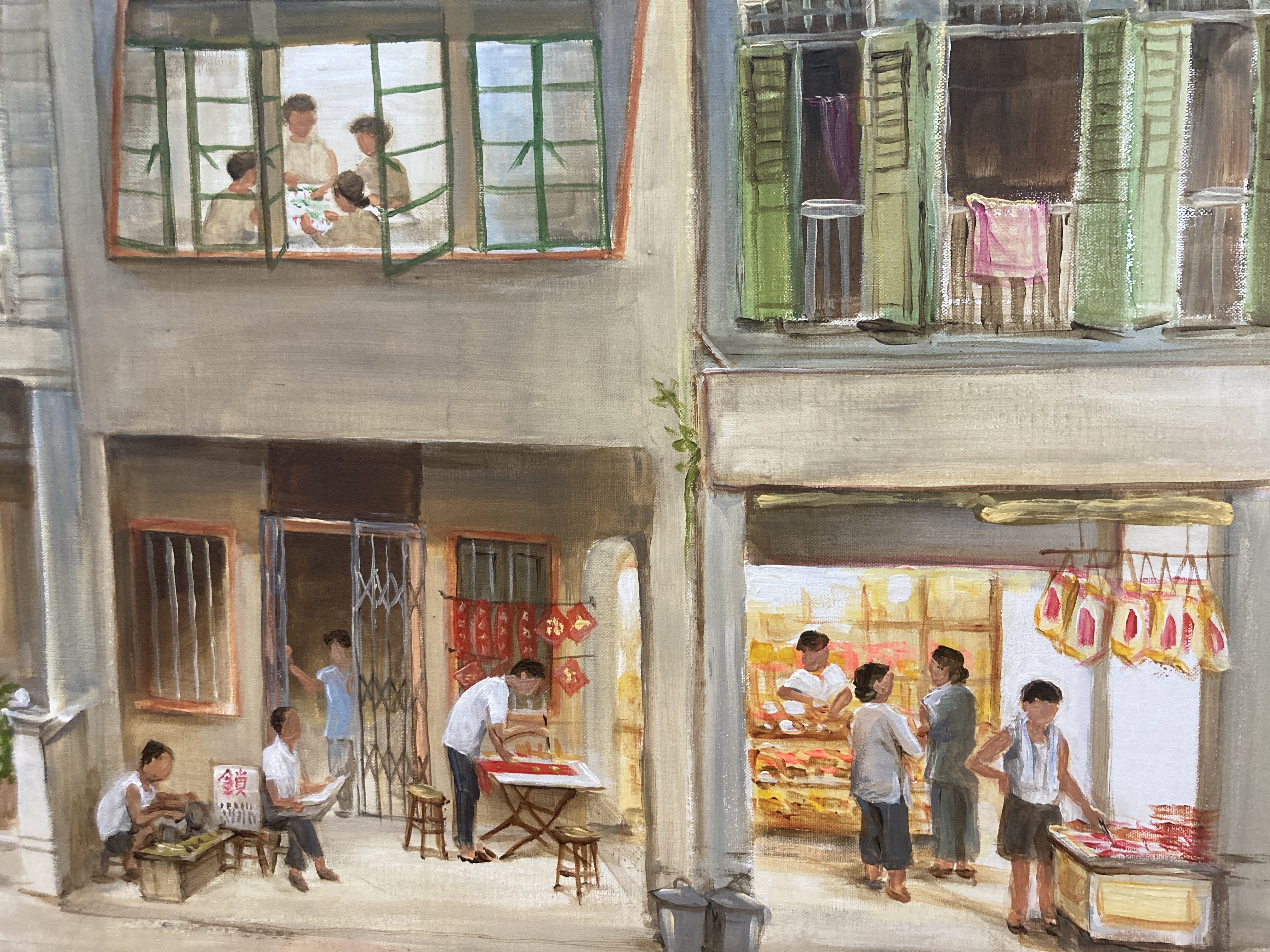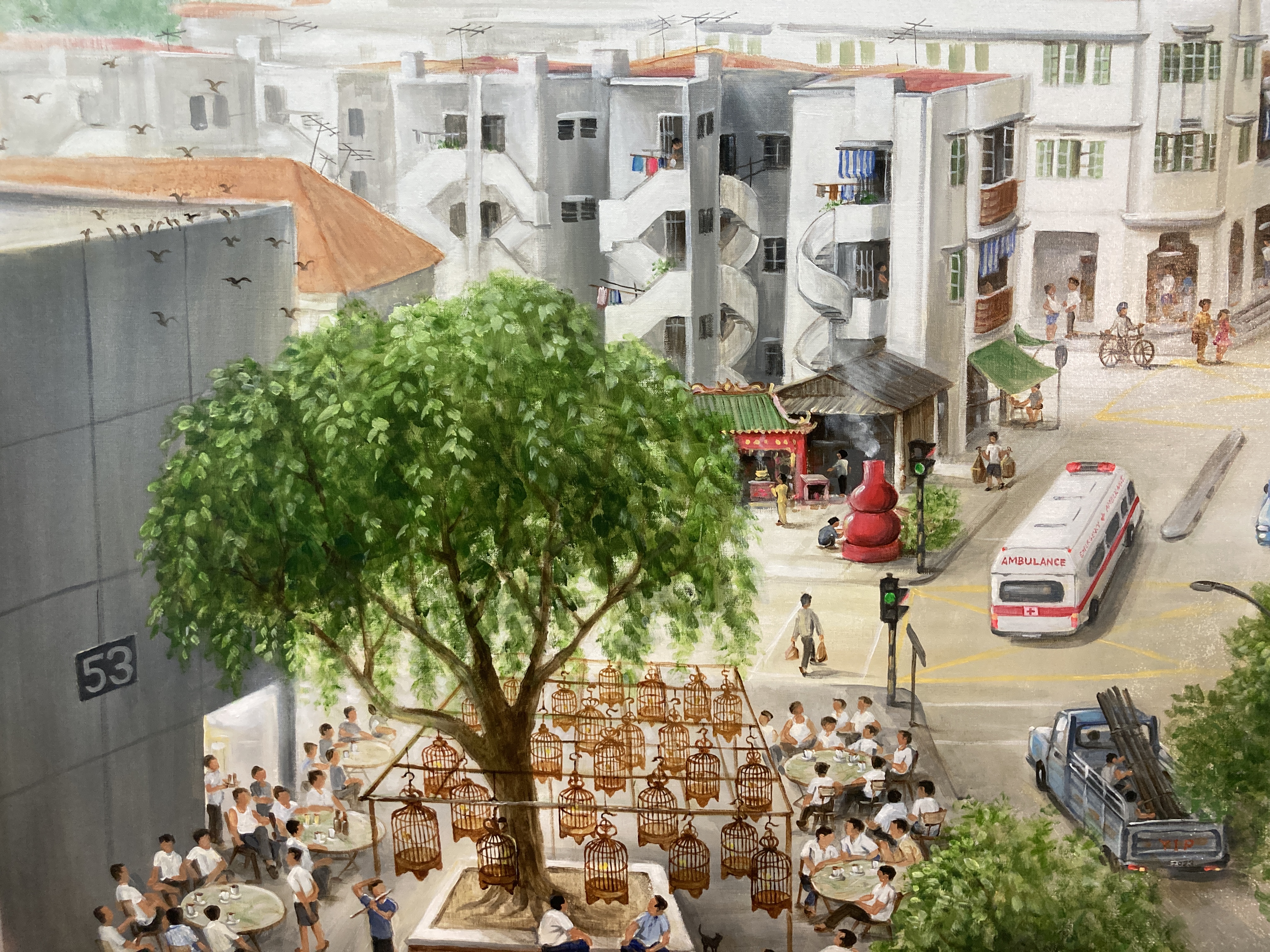 Recognise any of these nostalgic scenes?
Yip shared that following this, he has a "pipeline of projects", including several large murals.
If you're looking forward to viewing the 60m painting in person, Yip revealed that he's planning to exhibit the piece later this year.
"Fingers crossed," he said.
The exhibition will be free, and he said he hopes that "as many people as possible will come and visit the show".
"[I hope] they will feel happy [when viewing the painting], seeing something that will remind them of their own experience of living in Singapore, as a resident or as a Singaporean."
Find out more about Yip Yew Chong through our previous interview here
Top photo by Ashley Tan