The new Toa Payoh Integrated Development (TPID) is expected to be completed by 2030, announced Sport Singapore (SportSG) in a joint press release on Sunday, Feb. 26.
The TPID project is a multi-agency collaboration between SportSG, Ministry of Health (MOH), National Library Board (NLB), National Parks Board (NParks) and National Healthcare Group Polyclinics.
The complex, spanning a massive 12 hectares, will comprise a regional sport centre, a polyclinic, a public library, and a regional town park.
This is what it is expected to look like:
It is currently planned for the parcel of land between Lorong 6 Toa Payoh and Pan-Island Expressway.
Sports facilities and potential training centres for national athletes
The sporting facilities proposed for the new regional sport centre include swimming pools, indoor sports halls, sheltered tennis, futsal and netball courts, gymnasium and fitness studios, as well as a football stadium.
In addition, there are plans for TPID to house the national training centres for sports such as aquatics, netball and table tennis, shared SportSG.
Lim Teck Yin, Chief Executive Officer of SportSG, shared that the Toa Payoh Sport Centre has always had a "rich sporting heritage".
It has not only hosted major games such as the Southeast Asia Peninsular Games in 1973, the Southeast Asia Games in 1983, 1993 and 2015, and the inaugural Youth Olympic Games in 2010, but also staged the International Table Tennis Federation (ITTF) Women's World Cup live at its indoor sports hall in 2011.
He added, "Above all, many residents come to the sport centre for their weekly sporting activities and exercise. The new integrated development is part of our efforts to bring quality sporting infrastructure closer to the community."
During the TPID Road Show held on Feb. 25 and 26 at the HDB Hub Atrium in Toa Payoh, captain of the national artistic swimming team, Vivien Tai, 21, further elaborated that the team is very excited to have a "whole integrated development" and new place to train.
Tai, who lives near Toa Payoh, shared that she herself has been training at the existing pool in Toa Payoh for 10 years, and it is like a "second home" for her and many of her teammates.
In response to the question of what she is most excited for, she shares that she looks forward to the new pool complex and also a covered pool, so that they can train no matter rain or shine.
"I think it'll benefit a lot of our younger swimmers because they are still kind of young and by 2029, I hope they'll be (training) here for the SEA Games because the SEA games for synchronised and artistic swimming is an important competition."
Polyclinic and rejuvenated town park
As part of MOH's plan to invest in primary care, a new polyclinic will also be housed at the TPID, so that residents can receive care closer to home.
The polyclinic will provide services ranging from regular assessment for healthy child development, to senior services such as frailty screening and health promotion interventions for an ageing population.
In addition, a new public library will be constructed to replace the existing one in order to provide a place for residents to read and learn, the joint release stated.
The existing Toa Payoh Town Park will also be rejuvenated with "enhanced greenery and new amenities", to bring "visitors closer to flora and fauna". According to NParks, the new Toa Payoh Town Park will conserve iconic features of the current town park, which is the first in Singapore. An example of such features is the Lookout Tower.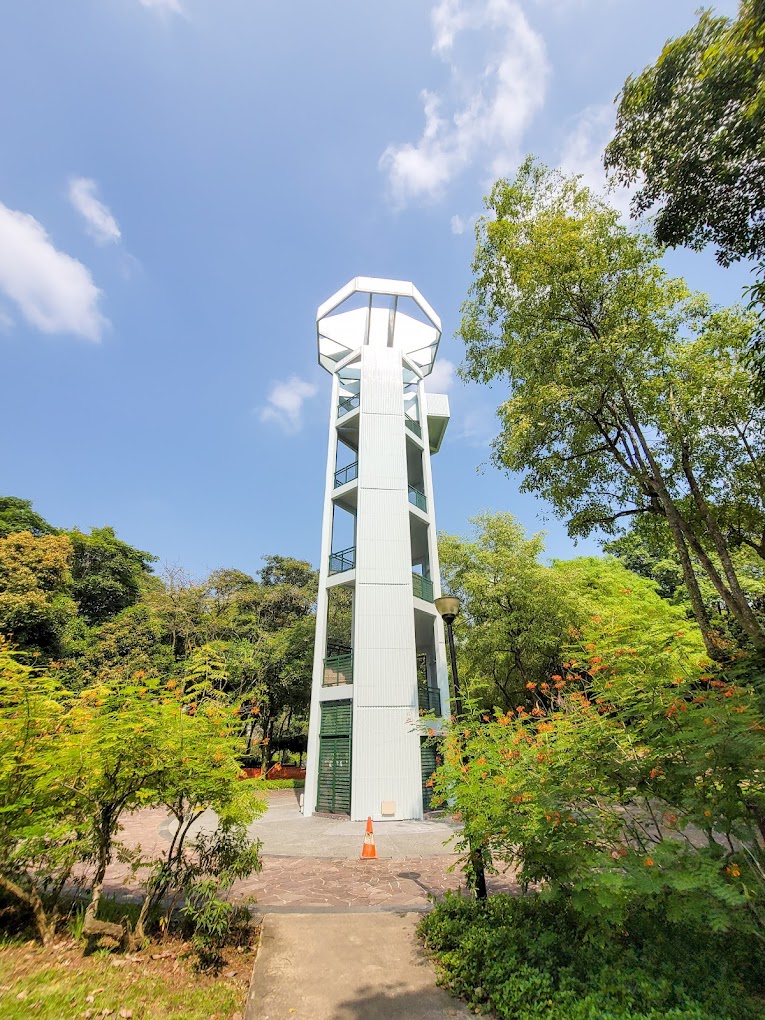 "We will continue to rejuvenate our town, so that Bishan-Toa Payoh GRC and Marymount SMC will remain a good home for residents of all ages," said Senior Minister of State for the Ministry of Finance and Transport Chee Hong Tat, who is also an adviser for the Bishan-Toa Payoh Grassroots Organisations.
Chee added that a running track around the space, as well as sheltered walkways to bus stops, will likely be developed too.
Welcome feedback for facilities and design
As part of the public consultation process, the TPID roadshow was held this weekend so residents could view the design for the upcoming development, and share their feedback.
Residents were able to speak to staff members from NParks, SportSG, or NLB at designated booths during the road show, or scan QR codes in order to provide their feedback on the facilities.
The TPID, as well as the upcoming Punggol Regional Sports Centre, is part of the Sports Facilities Master Plan, a key initiative under the Vision 2030 plan, to encourage greater accessibility and wider participation in sports.
Top image via Sport Singapore