If you haven't heard, the Geylang Serai Ramadan Bazaar is back for its 2023 edition, which is the longest running to date.
With more than 700 stalls, the food and retail offerings are worth checking out, especially if you missed the vibes.
This year, Gallop Stable is making an appearance at the bazaar, behind Wisma Geylang Serai.
Gallop Stable is a public horse-riding centre located at Bukit Timah and Pasir Ris Park, and aims to provide "affordable riding" for anyone and everyone.
According to Gallop Stable's TikTok, they are offering several activities catered to children, such as pony rides, and photo taking and feeding sessions with the hoofed animals.
@gallopstable GALLOP at Geylang Bazaar! Come say hi, feed, ride and take pix with our cutie ponies! they're all dressed up fancy too! We'll be here tuesdays to fridays 4pm to 10pm and saturday to sundays 10am to 10pm! 🤪🥳 (located behind wisma geyland serai) #ponyrides #singapore #ponies ##fyp #ramadan ♬ original sound – Gallop Stable
Price range
For children above three years old and weighing not more than 40kg, an Arabian pony ride costs S$10.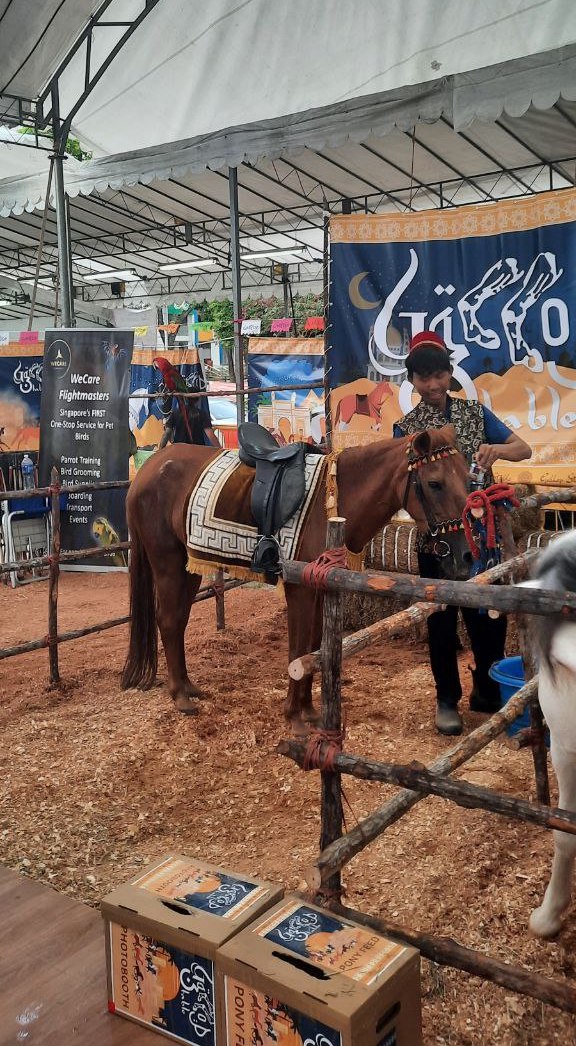 Photo taking without mounting a pony is S$5. Visitors can also feed a pony a bundle of hay for S$2.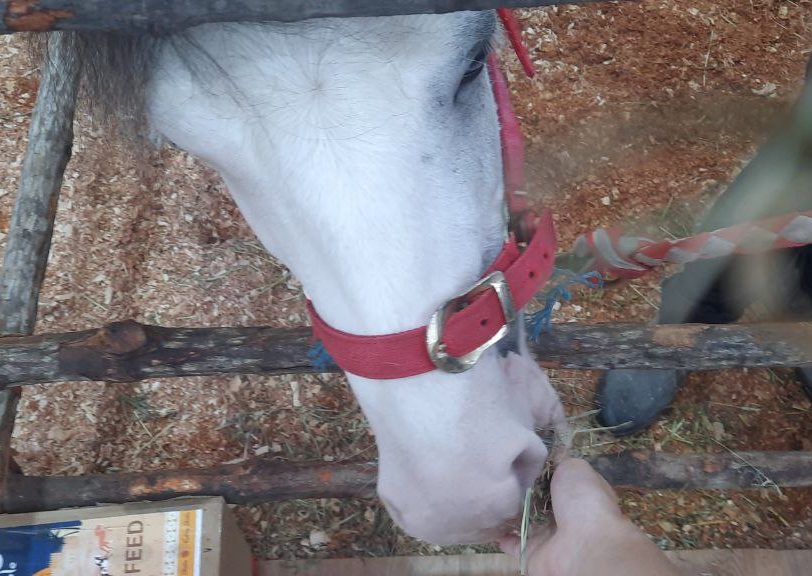 For S$10, visitors can also paint and decorate their own horseshoe.
If you aren't a fan of horses, there are other activities available such as archery and bird feeding.
Ensuring ponies are 'stress-free'
Gallop Stable spoke to Mothership on the measures taken to care for the ponies at the bazaar, stating that they ensure the ponies are "(safe) and stress-free".
The ponies are located further away from the food stalls where the majority of the crowd is, and they claim that the animals have "secluded" rest areas away from public interaction.
When Mothership went down to the bazaar on Mar. 21 at around 6pm, the area containing the ponies was visibly less crowded than the section selling food.
When necessary, Gallop Stable stated that the ponies are guided to a bigger space for "peace and free movement".
According to Gallop Stable, the ponies have ample food and fresh water, and are kept under "super high ventilated tents" to protect them from the elements.
Interaction hours with the public are also limited to ensure the ponies receive proper rest.
During the bazaar, six ponies will be on site at any given time and day.
On weekends, the six ponies will be rotated with another batch of six every six hours.
All ponies are not given more than two hours of "work" during the six hour interaction period.
Gallop Stable states that there are qualified trainers and handlers on site, and any distressed pony will be transported via stationed trailers back to the stable.
Gallop Stable @ Geylang Serai Ramadan bazaar
Address: Behind Wisma Geylang Serai, 1 Engku Aman Turn, Singapore 408528
Opening hours:
Tuesday to Friday: 4pm-10pm
Saturday to Sunday: 10am-10pm
Date: Now till Apr. 2, 2023.
Images via Zoe Ern Yap.