The community dogs at Pulau Ubin are known to be "guides" for those who go hiking along the island's trail.
One of these "guides" was the famous Kopi-O, who tragically died in 2021 after an accident with a taxi.
However, it looks like its spirit lives on in this similar-looking dog that roams the island and keeps hikers and campers company.
 "So fearless and a sweetie"
A TikTok user shared a video on Mar. 20, 2023, about her encounter with the pup that she dubbed "Bagel".
In her video, the woman described "Bagel" as one of the stray dogs on the island as she gave it a massage when it went to visit her tent one morning.
She said it was "fearless" as "he chased away monkeys that were [going] to invade our space".
@lapindise Look at how happy he was receiving my massage! ☺️ #dogsoftiktok #asmr #dogmassage #fyp ♬ Aesthetic – Tollan Kim
Guiding visitors on the island
The consensus was that the dog was a good boy.
Some commented on their encounter with the pup, and as the dog has no official name, one person called it "Happy".
The dog apparently tags along with hikers exploring the trails and acts as a guide.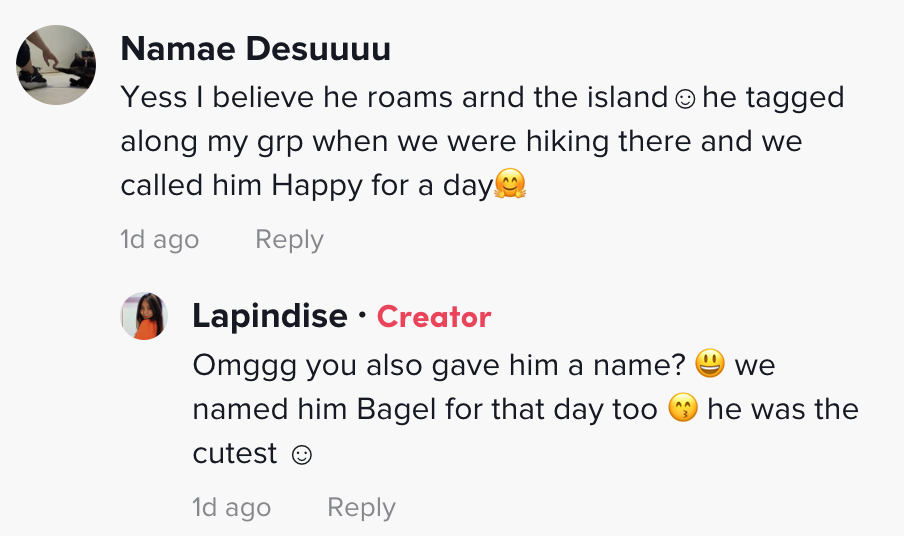 Top photos via TikTok
If you like what you read, follow us on Facebook, Instagram, Twitter and Telegram to get the latest updates.