Following the hard landing of Red Lion parachutist 3WO Jeffrey Heng during the 2022 National Day Parade (NDP), a Review Panel was commissioned to examine the training and safety management of the Red Lions.
What happened to 3WO Jeffrey Heng?
On Aug. 9, 2022, Heng suffered a rough landing during the parade itself at The Float @ Marina Bay and was carried away in a stretcher.
Heng suffered "some injuries", according to Minister for Defence, Ng Eng Hen, but fortunately did not require surgery.
The Singapore Army posted on Aug. 10, 2022, that The Float sometimes experiences strong crosswinds, gusty currents, and disruptive airflow.
While Heng's landing was tumultuous, he did apply his training and adopted the Parachute Landing Fall, which helped reduce the severity of his injuries.
The Parachute Landing Fall is a safety technique that distributes the landing shock across different body parts, allowing the parachutist to land with minimal injuries.
Sudden unexpected change in wind caused excessive turbulence
The review panel's investigations found that on Aug. 9, 2022, there were sudden and unexpected changes in the wind conditions during the Display Jump.
This caused the Red Lions to experience more turbulence than encountered in previous rehearsal jumps.
As Heng was approaching his final turn, Heng experienced a sudden strong gust of wind from his rear. To maintain control over his flight path, Heng executed a sharp left turn which caused his parachute to be depressurised briefly.
As there was insufficient altitude for a flare landing, Heng instinctively executed the Parachute Landing Fall as per protocol, preventing serious injury.
Heng has since recovered and has been certified medically fit to resume training.
No procedural lapses: review panel
The review panel found that Heng could have turned towards the final leg earlier by adopting a more gradual turn profile.
However, the Red Lions Commanding Officer Neo Choon Chea stressed that Heng turning earlier would be a "few microseconds earlier," but he did exactly what he was required to prevent a more severe outcome.
"[Heng] instinctively did the Parachute Landing Fall, which is a fundamental break fall technique for any parachutist if you cannot do a Flare Landing," said Neo.
In addition, the review panel found no procedural lapses in the Red Lions' training system.
"The training system is safe, robust, and progressive," said the Ministry of Defence (MINDEF).
Substantial resources and efforts have been implemented to ensure training and safety management systems, with practices and safety measures comparable with internationally recognised skydiving governing bodies, said the defence ministry.
The ministry also stressed that the Red Lions are experienced jumpers who are trained in both static line and freefall jumps. Those who were selected for recent NDPs have clocked an average of 400 to 500 jumps and have 20 years of experience each.
The Red Lions also leverage technology such as vertical wind tunnel and Parachute Flight Simulator in their training. This enables them to hone their freefall skills and rehearse in a controlled environment prior to live jumps.
Enhancements to Red Lions training
Even so, the review panel have recommended enhancements to the training and safety management of the Red Lions display team.
First, the ministry has resumed a canopy piloting course which was suspended in 2020 due to Covid-19 restrictions. This course equips jumpers with essential canopy piloting skills to handle challenging wind and landing zone conditions that are particular to Display Jumps.
The ministry has also implemented the Enhanced Display Jump Preparatory Training (DPT) which provides high-volume, intense team jump training. The DPT closely simulates the required landing zone conditions and includes overseas training, which allows the Red Lions to train in drop zones with more wind turbulence and other conditions to further hone their parachuting skills.
Road to NDP 2023
For NDP 2023, the Red Lions have begun training in March 2023, and on-site rehearsals at the Padang start in June.
"The build-up training would sharpen individual proficiencies to handle challenging winds, as well as strengthen team synergy," MINDEF stated.
In addition, the landing zone at the Padang for NDP 2023 will be expanded.
The landing zone will be situated further away from spectators, so jumpers will be less susceptible to turbulence and allow more manoeuvring space for the Red Lions.
This expanded landing zone is twice as large as the landing zone at The Float.
There will be no Red Lion landing in the heartlands this year, said Chief Commando Officer Pang Chee Kong.
MINDEF clarified that last year's incident with Heng and the review panel findings had no impact on the decision of the Red Lions jump in the heartlands for NDP 2023.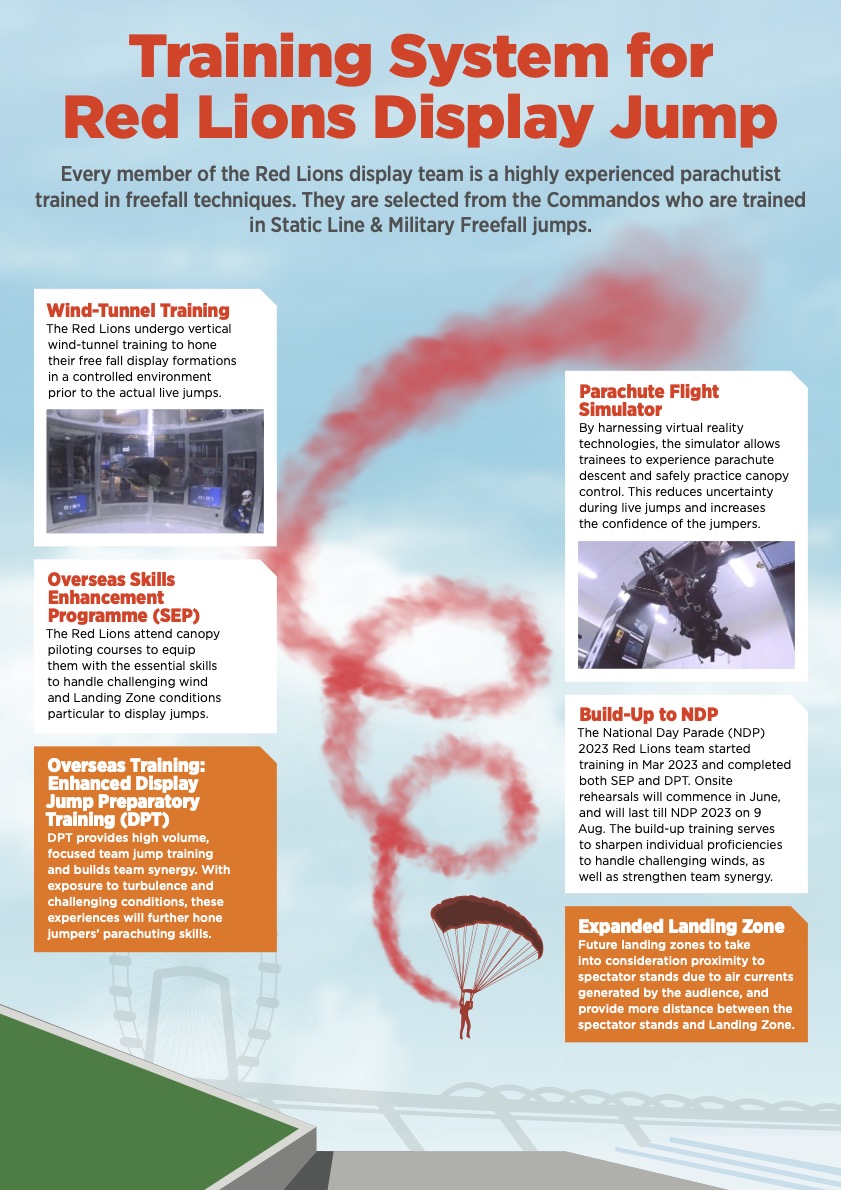 Top photos via Hannah Martens and NDPeeps' YouTube livestream.