One of the top lawyers in Singapore, Senior Counsel Harpreet Singh, was seen walking the grounds in Marine Parade with the Workers' Party (WP) recently, according to photos shared by a party member.
On Aug. 12, WP member Nathaniel Koh shared on Facebook several photos of him and other WP members visiting residents of Terang Bulan Avenue in Marine Parade GRC's Joo Chiat division.
Accompanying Koh and Fadli Fawzi, who contested Marine Parade GRC in 2020, was Harpreet Singh, a Senior Counsel of the Supreme Court.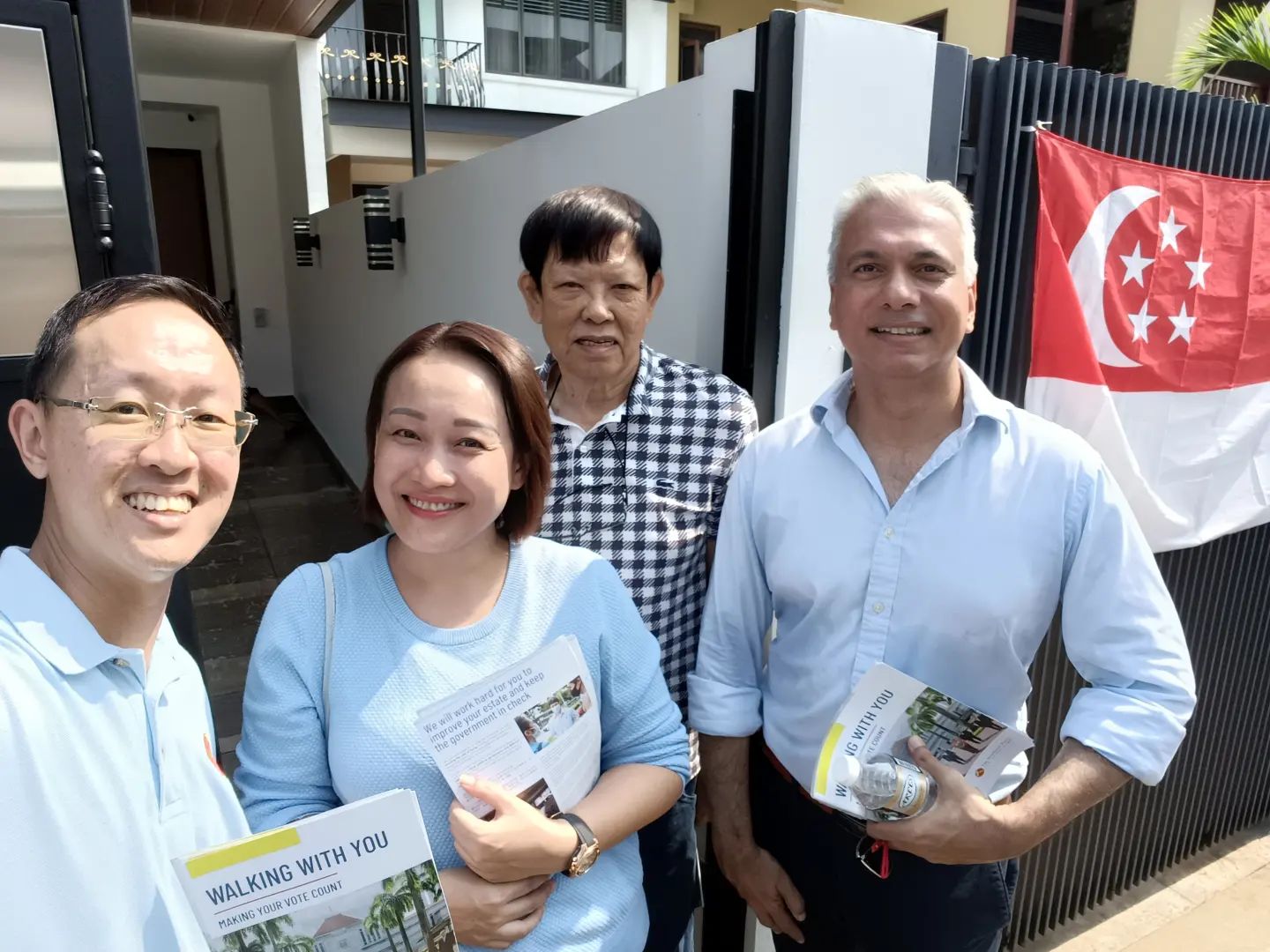 In the photos, while Singh's attire doesn't bear the official WP logo, he was seen wearing a light blue shirt and was holding on to WP brochures.
Neither Singh nor the WP have made any official statement on his affiliation with the party.
But Singh is no stranger to the public.
He previously penned commentaries on social and legal issues, and was also involved in a 2022 Supreme Court case that challenged Section 377a of the Constitution, which criminalised sex between men before it was repealed later that year.
Singh a "big fish"
Some online commentators have already dubbed Singh a "big fish" who is a catch for the WP.
As Senior Counsel, Singh is considered an elite lawyer in Singapore, as there are only 98 individuals who have been granted that distinction by the Singapore Academy of Law (SAL):
"Senior Counsel are an elite group of advocates who have top-tier advocacy skills, professional integrity and are learned in the law. They have a duty of leading and being an example to the rest of the Bar, especially younger members."
Other current Senior Counsel in politics include:
K Shanmugam, Minister of Home Affairs and Minister of Law
Indranee Rajah, Minister in the Prime Minister's Office, Second Minister for Finance, and Second Minister for National Development
Edwin Tong, Minister for Culture, Community and Youth, Second Minister for Law, and MP for Marine Parade GRC's Joo Chiat division
Murali Pillai, MP for Bukit Batok SMC
Singh, a graduate of Harvard Law School, was once appointed as an independent reviewer by the Monetary Authority of Singapore to investigate an international bank concerning a corruption scandal relating to a foreign state-owned investment corporation.
Mothership has reached out to the Workers' Party for comment.
Top photos from Audent Chambers and Nathaniel Koh's Facebook
If you like what you read, follow us on Facebook, Instagram, Twitter and Telegram to get the latest updates.