There were 476 suicides reported in Singapore in 2022 — the highest recorded since 2000, the Samaritans of Singapore (SOS) stated on Jul. 1.
SOS said that the numbers reveal a concerning rise of 25.9 per cent from 378 in 2021.
Sharp rises among youths and older adults
While there was an increase across most age groups, SOS observed a sharp rise in numbers among youths and older adults.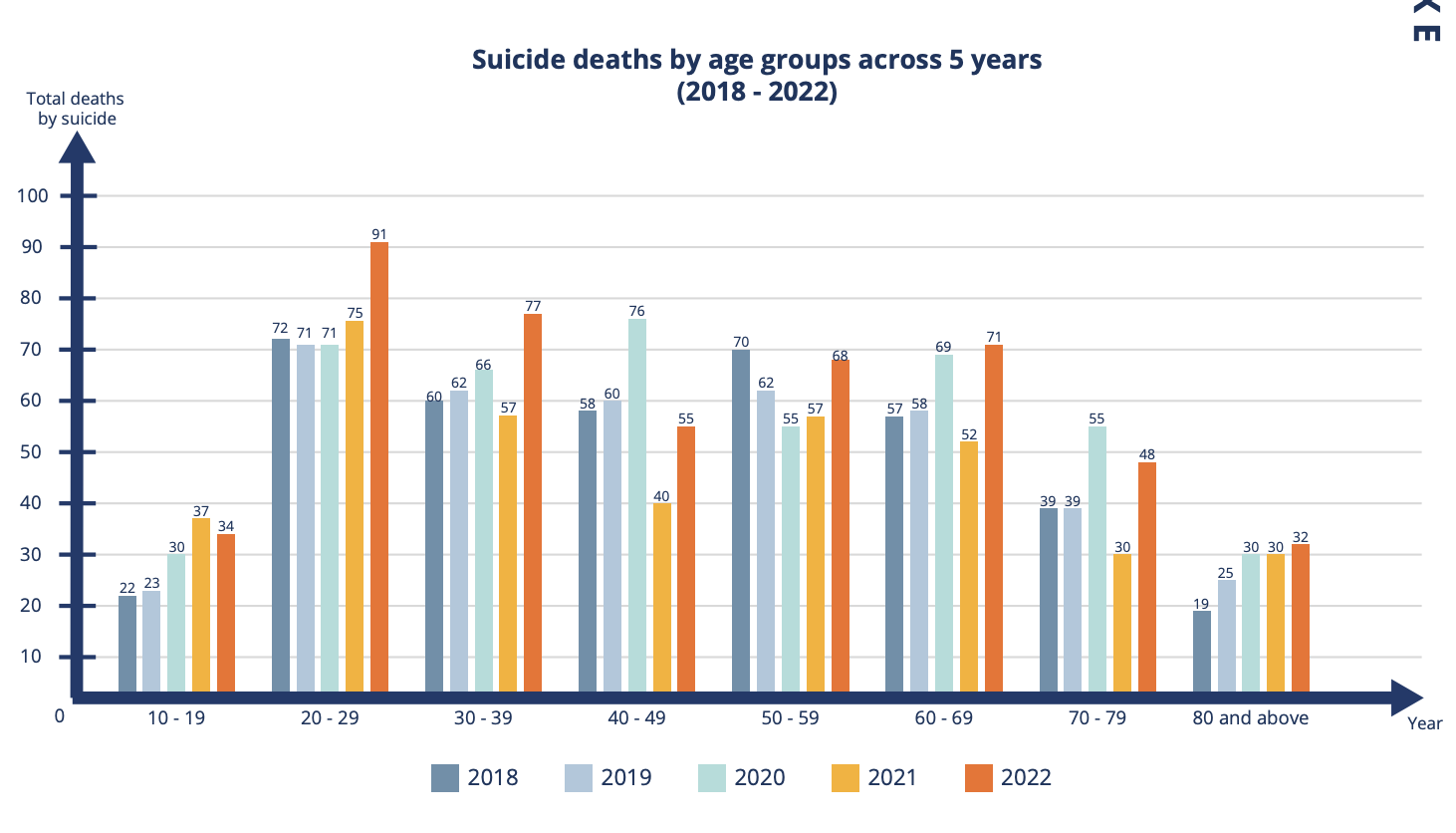 Statistics show that suicide remained the leading cause of death for youths aged 10-29 for the fourth consecutive year, with 125 suicide deaths making up 33.6 per cent of all deaths in Singapore within the age group.
It was an 11.6 per cent increase from 112 in 2021.
Among older adults, the highest increase was within the 70 to 79 age group, where the numbers increased from 30 in 2021 to 48 in 2022 — a 60 per cent increase.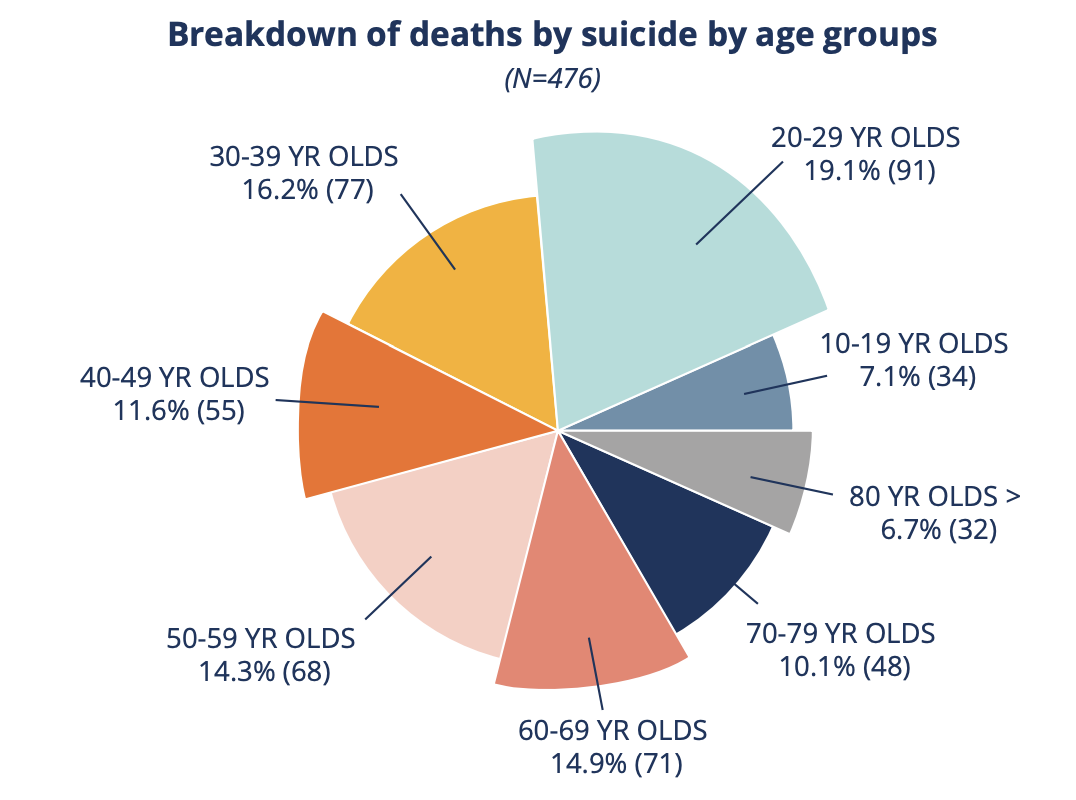 "Unprecedented rise heartbreaking"
"Seeing the unprecedented rise in suicide numbers in Singapore is profoundly heartbreaking," Jared Ng, Senior Consultant and Medical Director at Connections MindHealth, stated in the report.
"This increase paints a picture of the unseen mental distress permeating our society, especially amongst our youths and the elderly", he said.
He pointed out that Singapore should "remain vigilant to the pressing issues" that heavily impact mental health, such as social isolation and loneliness.
Ng also encourages efforts for early detection and a culture of seeking help and watching out for one another.
Ong Say How, Senior Consultant and Chief, Department of Developmental Psychiatry, Institute of Mental Health, highlighted that improving mental health literacy, such as knowing the warning signs of distress, is important.
"What we need to do as parents, educators, healthcare professionals, and community workers is to continue to join hands to form a safety net to prevent such tragedies," Ong added.
"We should also guide youths on when and where to seek help."
Singaporean author and businessman Devadas Krishnadas, noted that while it is good to see that more public attention is on this troubling issue, it is tragic that suicides are at an all time high.
"To put things into perspective there were only 6 murders in 2022 and 46 fatal industrial accidents. So of total of 526 'unnatural deaths', suicides accounted for 91 percent," he said.
SOS to continue efforts
Gasper Tan, CEO of SOS, pointed out that suicide is a complex social issue, and there must be a priority for collective efforts to address the underlying causes.
Tan said that SOS continues its commitment to take proactive steps against rising suicide numbers and provide to those in need.
Other than programmes such as support groups for suicide attempters, "Light in the Dark", and first-responder community effort "Be A Samaritan", SOS collaborates with other community groups to widen the safety net and raise awareness to reduce stigma and encourage help-seeking.
SOS observed a 27.0% usage increase in 2022 from 2021 for its 24-hour Hotline and CareText services.
"Suicide is preventable," Tan added.
"SOS is dedicated to building an ecosystem of care where every individual feels valued, supported, and empowered to seek help when needed."
If you need emotional support, you can contact SOS at:
24-hour Hotline (1-767)
24-hour CareText (WhatsApp 9151 1767)
CareMail ([email protected])
All information shared with SOS is confidential, and people can remain anonymous.
Other helplines:
Singapore Association for Mental Health: 1800-283-7019
Institute of Mental Health: 6389-2222 (24 hours)
Tinkle Friend: 1800-274-4788 (for primary school-aged children)
Top image via Facebook/Samaritans Of Singapore