Amidst the cold and gloomy weather, it is the small acts of kindness that keep our hearts warm.
Reddit user Alex Santos, 22, recently lost his phone while eating outside with his sister, 12. Frantic, he retraced his steps in an effort to find his phone but to no avail.
When he was just about to give up, an elderly couple approached them with the lost phone safe and sound.
He took to Reddit to document the heartwarming story.
One good turn…
Responding to queries from Mothership, Santos explained that he had been eating mala at 116 Geylang East Central with his sister on the evening of Feb. 28.
Santos said that since it was raining heavily, it was easy to lose track of the many things he and his sister were carrying.
After dinner, they were just about to head home when he realised that his phone was missing.
"I don't know how it happened as I was holding the phone in my hand and the next moment, it was gone," he said.
Santos explained that he only realised that his phone was missing 15 minutes after he and his sister had left the food court.
The duo then spent 30 to 40 minutes retracing their steps, asking others if they had seen Santos's phone.
Their last resort was to use the "Find My iPhone" feature on his sister's phone.
They locked Santos's phone in case it was stolen and used the app to display his sister's phone number on Santos's phone, just in case anyone had found the phone and could contact the siblings.
After around 10 minutes, they received a call on his sister's phone.
The person on the other side asked where they were, and explained that they had found Santos's phone nearby.
The siblings then headed to a nearby Chinese restaurant to collect the phone.
…deserves another
Upon meeting the elderly couple, Santos's described them as "the most pleasant people."
The elderly couple explained to Santos that they were about to head home when they found the phone on the floor. They decided to stay around the area and grab a meal in hopes that the owner of the phone would come looking.
The siblings thanked the couple profusely.
Afterwards, Santos said he and his sister rushed to a nearby bakery and bought two chocolate waffles to give to the elderly couple to show their gratitude.
They headed back to the restaurant and managed to catch the elderly couple on their way out.
The elderly couple were initially reluctant to accept the waffles, but the siblings insisted that it was the least they could do as thanks.
Regrettably, Santos didn't get their names, but the couple had shared earlier that they live around Eunos.
Nevertheless, the incident was certainly heartwarming.
"I couldn't be any more grateful that I came across such wonderful people," he wrote in the Reddit post.
Asking the real questions
Many were heartened by the sweet story, saying that it had brought much-needed positivity to their day.
Others were keen to know more about the mala that Santos had been eating.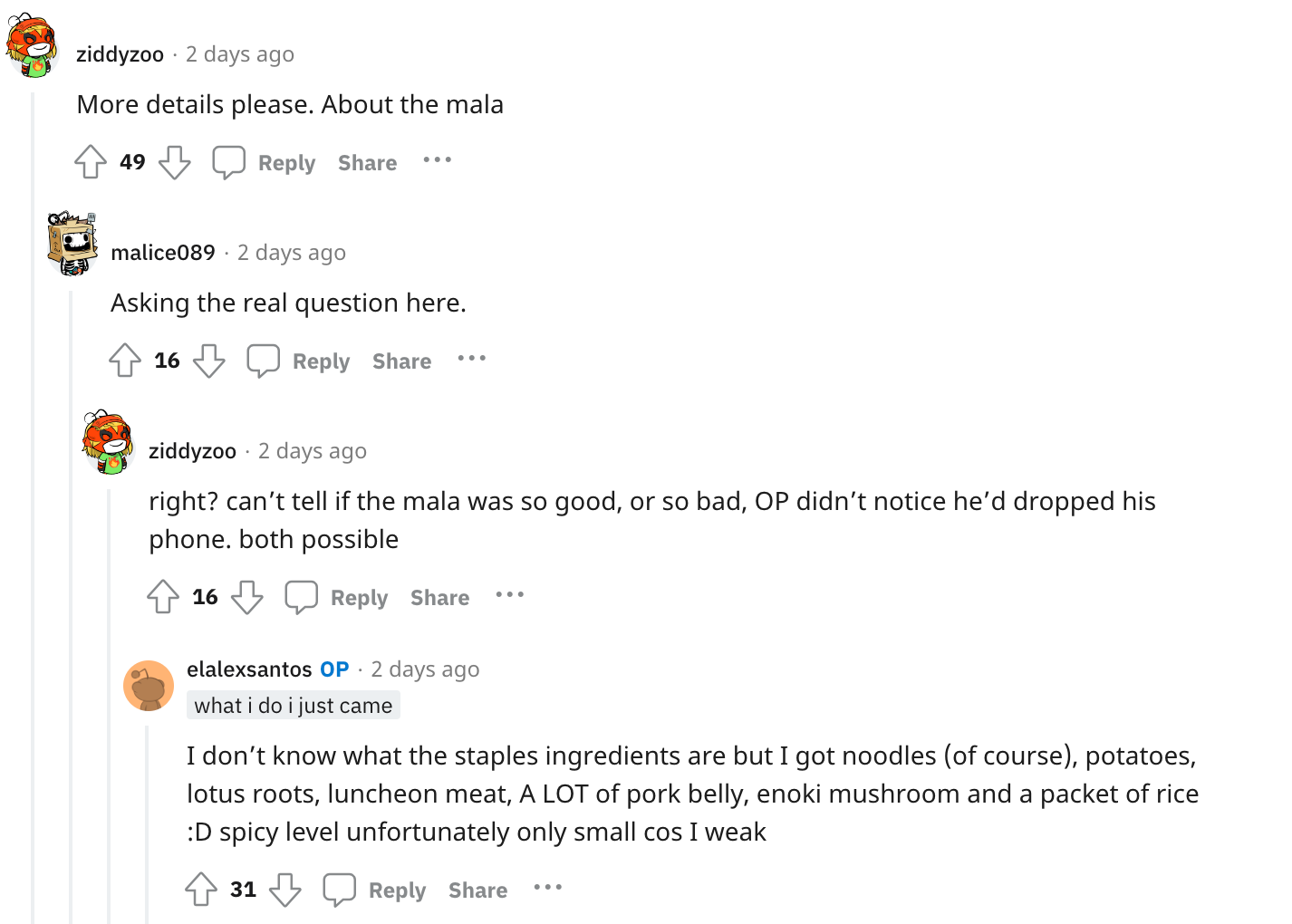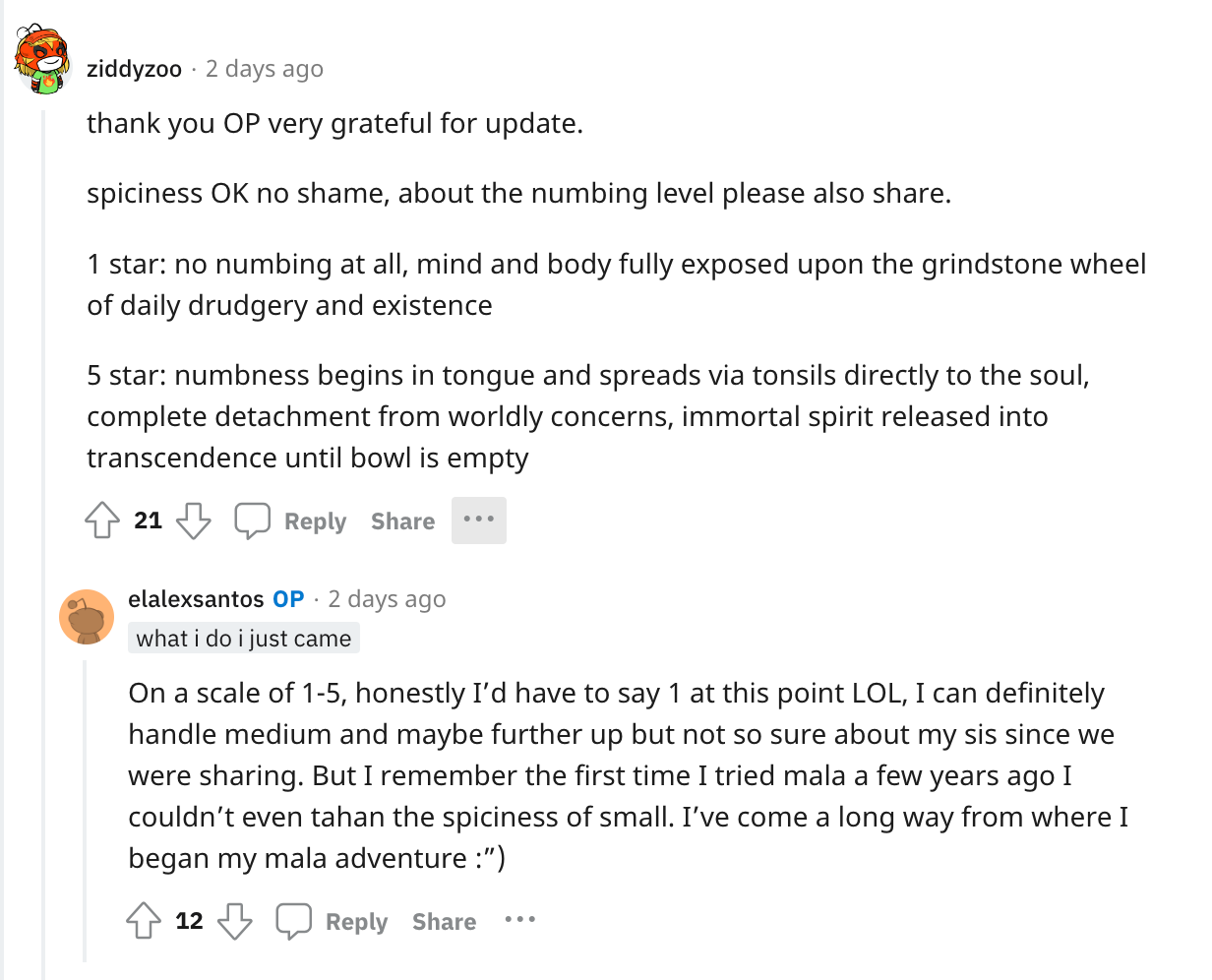 If such a story of compassion fails to warm one's heart, maybe a bowl of spicy mala will.
Top photo via Unsplash and @compasssonesg on Instagram, for illustration purposes.