On Mar. 8, Sophie Soon, a Paralympic swimmer, posted a video online about her experience dining at Rocky Master, a Halal-certified cafe in Hougang 1 mall.
This subsequently led to a stand-off between Soon and an employee, after the former was not allowed indoors with her guide dog.
Soon is visually impaired, and has a progressive condition known as cone rod dystrophy, which leads to vision loss over time.
Initially asked to sit outdoors
Soon was out for dinner with her mother, and the pair had wanted to dine at Rocky Master.
However, they were apparently not allowed to be seated inside the premises due to the presence of Soon's guide dog, Orinda.
In the video, the Rocky Master staff member she had spoken to was on a call with someone who is presumably her superior.
@sophsoon How many times does this happen to us before we can be treated like any other customer. #guidedogs #guidedogssg #accessibility #tiktoksgviral ♬ original sound – Sophie 🏊🏼‍♀️🦮💙
The staff member apologised and told the pair that they had to "sit outside with the guide dog".
In response, Soon's mother said "no", and added that a similar situation "happened at McDonald's".
While the employee sought advice from the person at the other end of the call, Soon's mother could be heard asking: "Why are you discriminating against a guide dog?"
Soon's mother pointed out that guide dogs are approved by Muis, also known as the Islamic Religious Council of Singapore, as well as the Ministry of Sustainability and the Environment (MSE).
She shared that "it is allowed in all restaurants".
The employee then ended the call, and told them that her superior would "call her back".
Afterward, Soon asked what would happen if the video of the employee is posted online, to which the employee replied that the establishment would file a police report.
The accompanying text in her TikTok video claimed that the staff called mall security on them, and also refused to take their orders.
Soon posted the same video on Facebook as well, and her caption noted that the cafe eventually allowed them to stay on the condition that "(her) dog is leashed, not fed, and if a customer does not complain about (her) dog."
Not the first time she has faced difficulty dining out
In a later update on TikTok, Soon justified her posting of the video, saying that otherwise, "businesses are just going to continue to get away with this kind of behaviour, discriminating against guide dog users and ultimately treating us incredibly rude, just because they think that they're in the right, even though they are the ones who are uneducated".
Although she acknowledged that it will take time to educate businesses, "as of now, it feels like the lesson really hasn't been learnt".
Soon noted that "ground staff should not be the only ones taking the fall", but that management has a responsibility to educate their staff as well.
She shared about how frequent guide dog users like herself encounter these incidents.
"Our feed is just gonna be content like this, because that's how often it happens."
She told The Straits Times that such incidents occur "practically every time I visit a new restaurant, which is a few times a week".
"I really hope that this is a matter that can be taken more seriously," she concluded in her video.
@sophsoon #stitch with @Sophie 🏊🏼‍♀️🦮💙 This is happening way too frequently. I'm as sick of talking about this like a broken recorder as you are probably of seeing me on your feed. We need to take guide dog laws way more seriously. #guidedogs #accessibility #tiktoksg ♬ original sound – Sophie 🏊🏼‍♀️🦮💙
Mothership has reached out to Soon for more information.
Rocky Master's response
In response to the incident, Rocky Master issued a statement on Mar. 9 on their Instagram page.
The cafe thanked Soon for her patronage of their establishment.
They also outlined their background as a homegrown brand, being Halal-certified since 2017.
Rocky Master highlighted that they "do not discriminate any diner who chooses to patronise (them)".
However, they cited the need to be mindful towards "other diners who might not be comfortable with certain dining environments".
Therefore, they asked for guide dogs to be leashed according to advisories from Muis and the Singapore Food Agency (SFA), and preferably seated at outdoor seating areas whenever possible.
Additionally, they acknowledged that the staff member seen in the video "may not be very experienced in handling such situations", but were "extremely grateful" that she took a "cautious approach to verify with her superior before making any commitment".
They praised the staff member and the team of employees for being able to "maintain their composure" and "do their best to accommodate and fulfil (Soon's) requests" while being filmed.
According to Rocky Master, the staff member was "traumatised" from the incident and they have since reached out to her to offer their support.
Soon responded in a comment on their post, thanking them for reaching out but calling the apology "not acceptable".
According to her comment, she stated that guide dogs are "allowed in indoor seating", so "there is no reason" for her and her guide dog to be seated outdoors.
"Please read up and educate your staff on the guide dog laws in Singapore," she said.
She cited social service organisation Guide Dogs Singapore (GDS) as a resource for "further guidance".
Netizens' reactions
Soon's video drew mixed reactions.
Users on Facebook and Instagram empathised with Soon.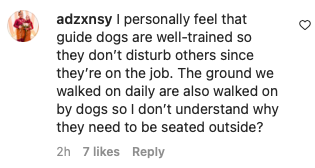 Some urged the relevant authorities to look into ways to raise awareness about guide dogs in Singapore.


On the other hand, some netizens also disapproved of her actions, saying that the Rocky Master staff did not deserve to be filmed and shamed online.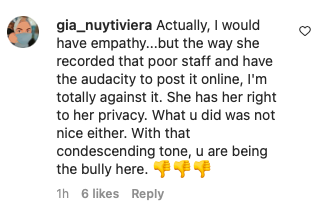 Ambassador-at-large Tommy Koh weighs in
On Mar. 10, Tommy Koh, Singapore's ambassador-at-large, made a Facebook post in support of Soon.
Koh, who is also the patron of Guide Dogs Singapore, spoke about the need for further acceptance of guide dogs in society.
He noted the efforts undertaken thus far to raise awareness on guide dogs.
"Over the years, we have succeeded in convincing the government, the private sector and MUIS that a guide dog is not a pet dog but a working dog. For a blind person her guide dog is her eyes. The guide dog is allowed to accompany the blind person everywhere."
Koh shared that he was "very sorry" to hear about the incident, and encouraged Singaporeans to "welcome our blind compatriots and their guide dogs into their premises".
Guide dogs allowed in halal establishments
According to GDS, guide dogs in Singapore are identifiable by their working harness.
The harness has a hard handle, allowing their user to feel directions and movement.
Guide dogs or guide dog puppies in training wear a vest which bears the logo of the Guide Dog organisation it belongs to.
Additionally, Guide Dog Teams that are under Guide Dogs Singapore are identifiable by a Guide Dog Team ID card.
According to the SFA and National Environment Agency (NEA)'s advisory, guide dogs are allowed in eating places, including restaurants, food courts and cafes.
In response to Mothership's queries, Muis stated that their conditions are made according to SFA regulations.
According to Muis' Halal Certification Conditions, Clause 4.2 of Eating Establishment (Category 2) scheme states that guide dogs for blind or visually-impaired customers are allowed in certified establishments.
The dog must be:
Kept under proper control,
Restrained from straying or causing annoyance or nuisance or damage any property,
Held in a leash, and
Not be fed within the establishment unless it is a pet cafe.
Muis also has an advisory on guide dogs, which states that Muslims do not have to cleanse themselves using the sertu method if they walk by or are in public areas where guide dogs have been.
Related articles
Images via sophsoon/ IG and sophsoon/ TikTok.