An image of a stingray that had a neat ¼ chunk torn out of its body has sparked an online discussion among nature lovers.
According to a post in Facebook group Singapore Wildlife Sightings on Feb. 25, Facebook user, BeeLee Lim, shared that the stingray was "still alive and moving", even after a significant chunk of its body was gone.
Responding to comments on the location, Lim shared that she had spotted the stingray at Lower Peirce Reservoir.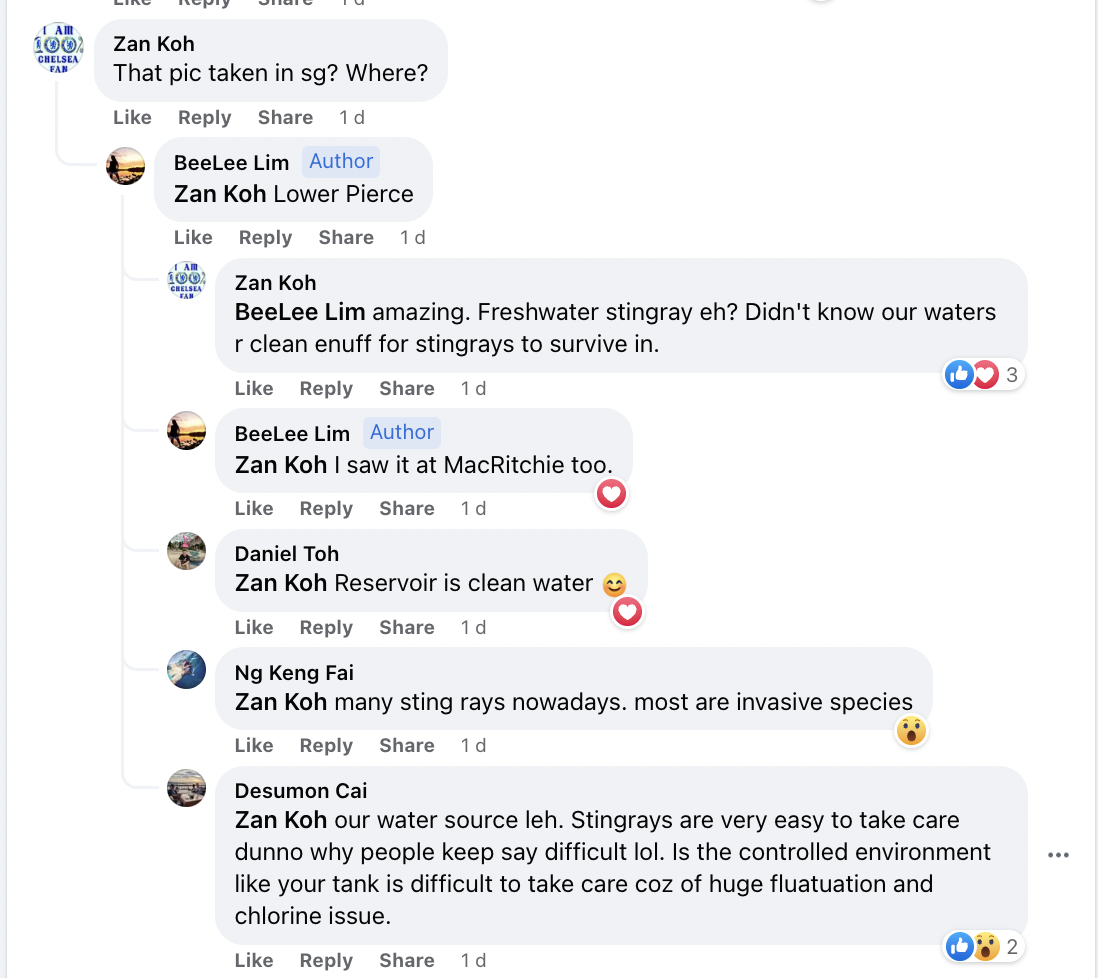 Contrary to what some other users might think, stingrays are not uncommon in our waters.
Lim responded to a comment that she also spotted stingrays at MacRitchie Reservoir in the past.
The stingray is likely to be a freshwater stingray.
What happened?
In response to Lee's post, many Facebook users took to speculating about who or what could have caused the neat cut on the round stingray's body.
Like for any good mystery, several suspects were raised.
Some raised the possibility of a shark attack, but this speculation was quickly shot down by other commenters, who noted that sharks would rarely be seen in freshwater areas.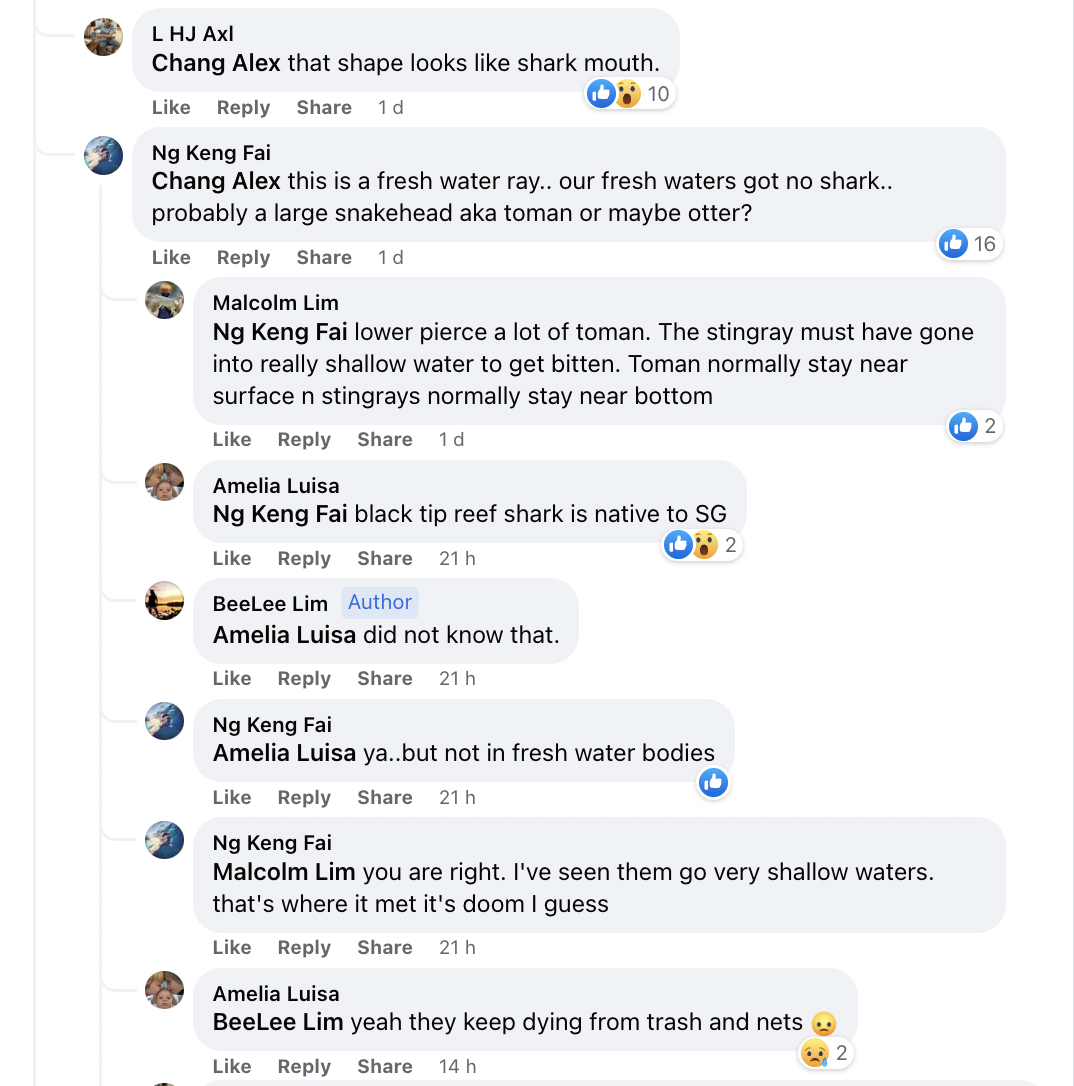 Others pointed the finger towards the snakehead, also known as the Toman fish, which is native to Singapore.
According to Wiki.nus, the Common snakehead is found in freshwater and is a predator that feeds on a variety of invertebrate and vertebrate creatures.
The Smooth-coated otters were also raised as another possible culprit, or perhaps the Malayan water monitor lizards.


Another user also made his guess that it might have been a wound from a saltwater crocodile.
Given where the stingray was spotted, this possibility is unlikely.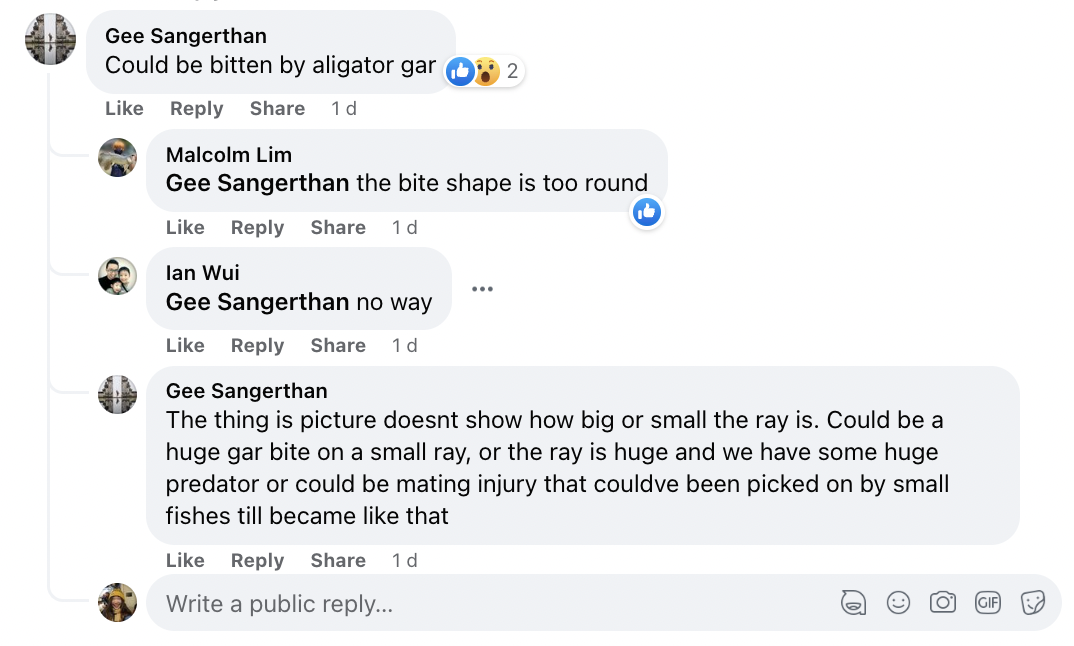 There were also observers who noted that the lines looked a little too neat to be made by an animal, and opined that the bite-sized chunk that was missing was most likely made by a human.

This is a sound guess, as many freshwater stingrays are abandoned pets.
Freshwater stingrays in Singapore
Stingrays are cartilaginous fishes that can be found in Singapore's mangroves, seagrass meadows and coral reefs.
According to The Straits Times, many of the freshwater stingrays found today in Singapore's reservoirs and canals were actually former pets, and were released by members of the public.
As these stingrays are not native, releasing them into natural habitats can harm native species.
Some stingrays are considered to be invasive species, like the Motoro stingrays, who are believed to be crowding out native freshwater species.
Not adapted to defending themselves against these foreign creatures, or competing with them for resources, our native species could be crowded out by the presence of such invasive species.
Generally, stingrays can be found near the bottom of the sea or freshwater bed, as they are bottom feeders.
While generally not aggressive, freshwater stingrays do also have a sting at the base of its tail, through which it can inject venom.
Top image via BeeLee Lim/Facebook