Where were you on Wednesday, Feb. 9, 2011?
Well, Taylor Swift, the mega superstar, arena-filling, concert ticket-selling machine, was in Singapore performing a show at the Singapore Indoor Stadium.
She was 21 years old then.
And she was goofy, wide-eyed, and an absolute crowd-pleaser.
A snippet from her vlog she used to put together to document herself and her touring for shows, included many classic Swift take on things.
@mothershipsg 12 years flew by so swiftly #tiktoksg #sgnews #taylorswift #theerastour ♬ original sound – Mothership.sg
Goofy persona
In one video taken at Changi Airport upon landing after a long-haul flight, she said before flashing a thumbs up while looking jetlagged: "We landed in Terminal 13, no big deal. 18-hour flight. Woooo."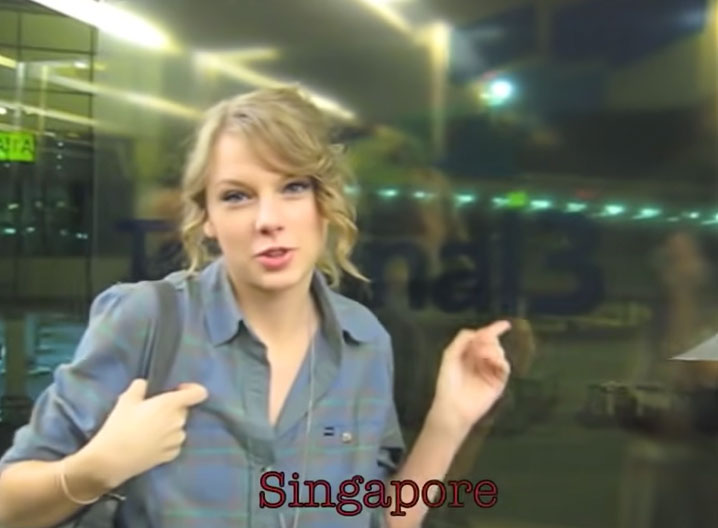 In the next scene, she said: "Never mind, that's Terminal 3. I just thought that the 'L' was a… Did the 'L' double as a '1'? Of course the 'L' doubles as a '1'."
"I'm tired," she said, mocking her faux pas.
Swift and fans
The vlog also included many scenes of Swift approaching her fans waving, hugging, taking wefies and signing autographs while getting mobbed.
Some of the interactions took place outdoors in the stifling tropical Singapore heat.
One fan who was present to greet Swift outside the Singapore Indoor Stadium before the show shot a video with the caption: "She walked out of her vehicle directly towards her fans 🙂 I've never seen a celebrity do that."
"She's really down to earth and kind to her fans."
"I'm the one who said, 'Hi Taylor!' And then she said, 'Hello!' Then I said, 'I love you!' Which then she replied, 'I love you too' :)"
"How do you find such endearing celebrities nowadays? She walked down the entire barricades to try to entertain all fans. Such dedication and love."
First 2011 concert attended by about 9,000
According to published statistics, the concert venue allocated 8,964 tickets for sale — priced at S$90, S$105, S$125, S$150 and S$175 per ticket — and all tickets were snapped up.
And here's a potato video of the 2011 show.
No one recognised her on the streets
Other scenes from Swift's vlog when she was here in 2011 showed her visiting Chinatown with her group of bandmates and minders.
The biggest takeaway was that she could roam around Singapore then without getting recognised immediately.
Back in Singapore in 2015 for 2 shows
Swift was back in Singapore in 2015 for another two shows back-to-back over Saturday and Sunday, Nov. 7 and 8.
Some 9,000 fans attended each night.
300,000 expected in Singapore for her 6 shows
Since then her fanbase has grown as her appeal continues to cut across demographics as one of the biggest pop acts in the world.
Swift's six shows in Singapore in 2024 is expected to bring about 300,000 people to the island.
Top image via Taylor Swift YouTube