Since presidential candidate Tharman Shanmugaratnam chose a pineapple as his election symbol, the fruit has made various appearances during his campaign efforts.
Tharman first waved a pineapple around on Nomination Day while shouting "Ong lai!", and he also presented a fruit stall worker with another pineapple on his Aug. 24 walkabout at Lau Pa Sat.
A member of the public also gave him a box of pineapple tarts.
This time, on Aug. 26, Tharman received three pineapples as gifts from two stall owners and one resident while on a walkabout.
Tharman told Mothership separately that his team of volunteers and supporters have been eating the pineapples he has been receiving.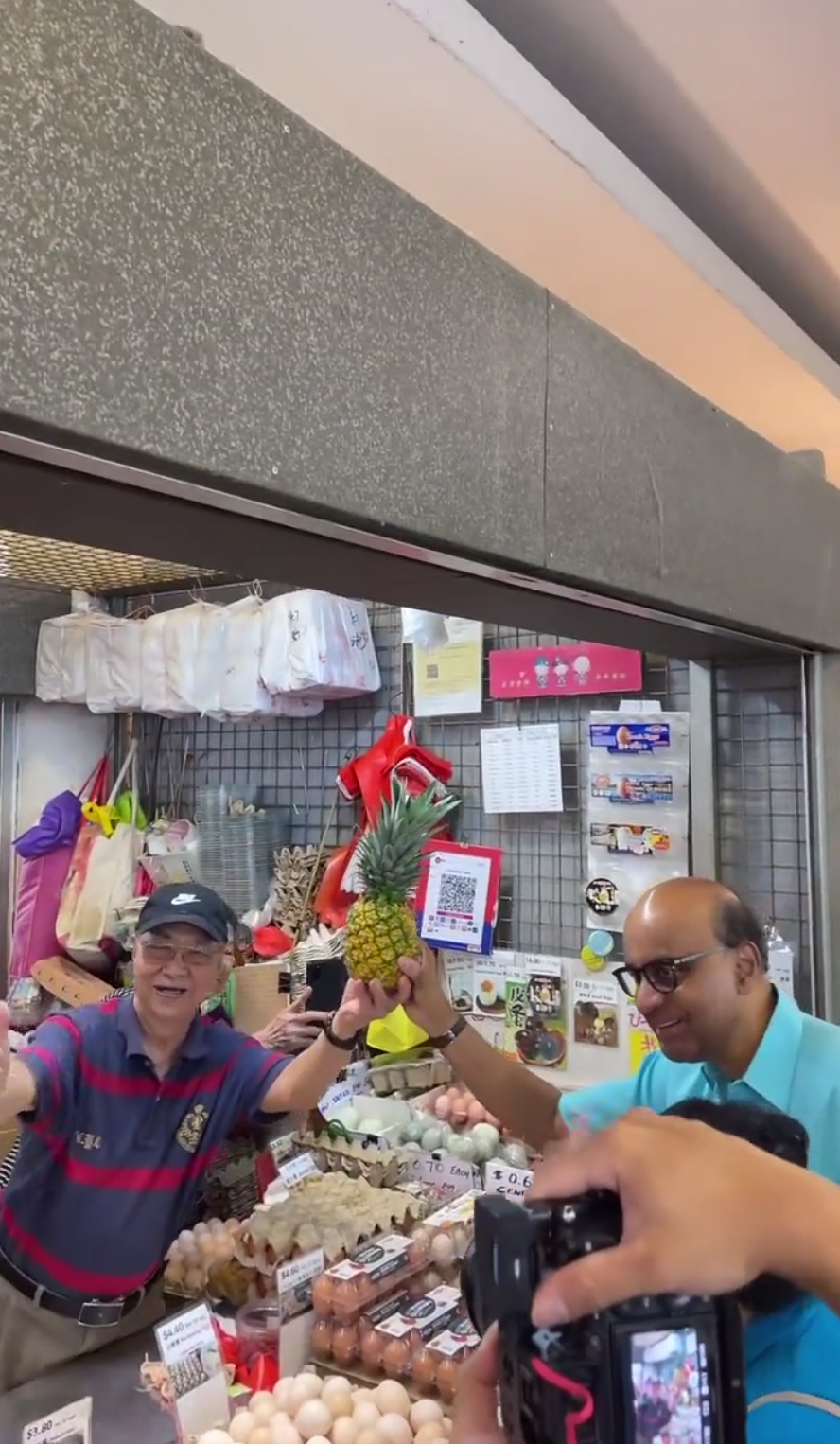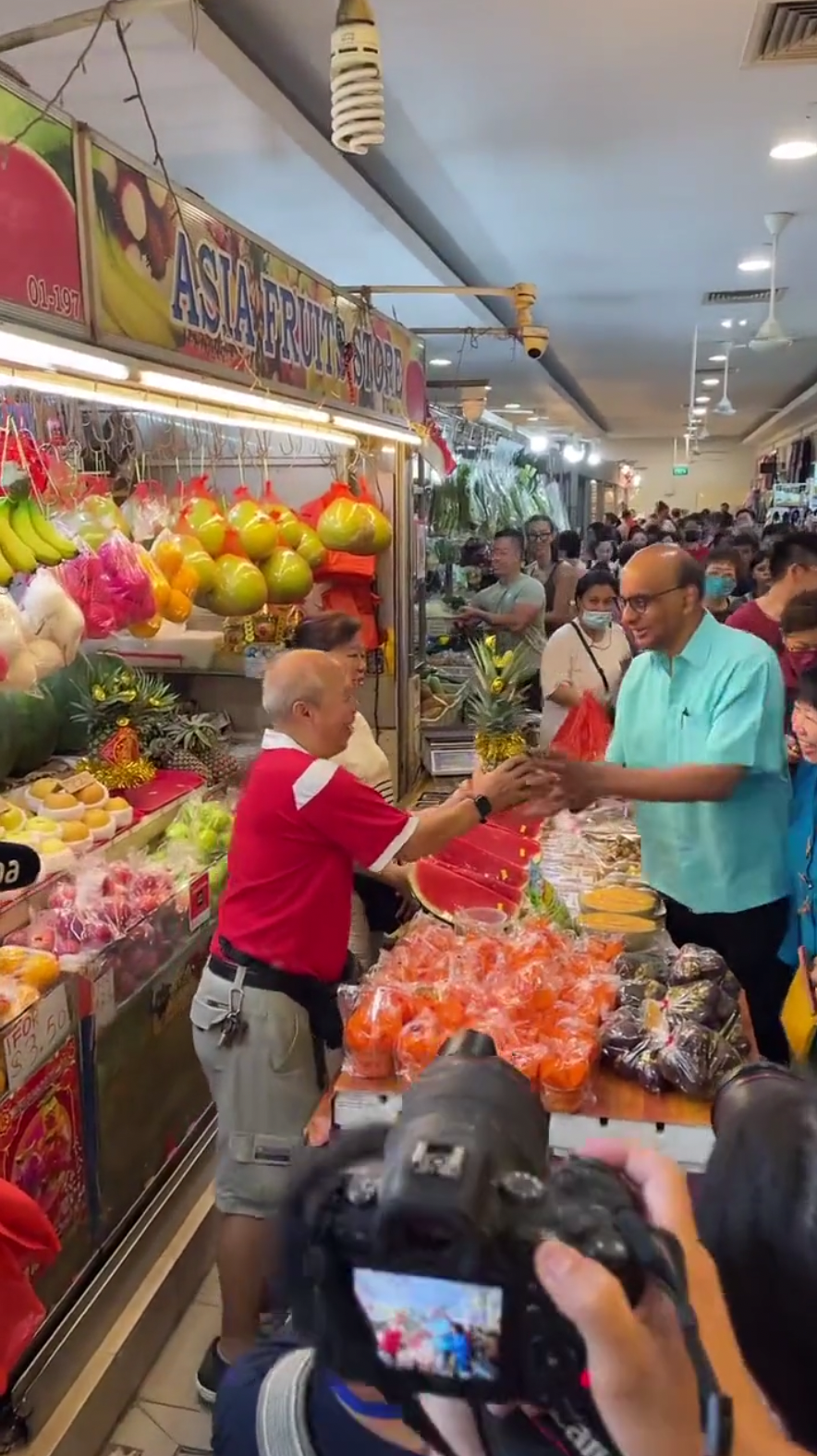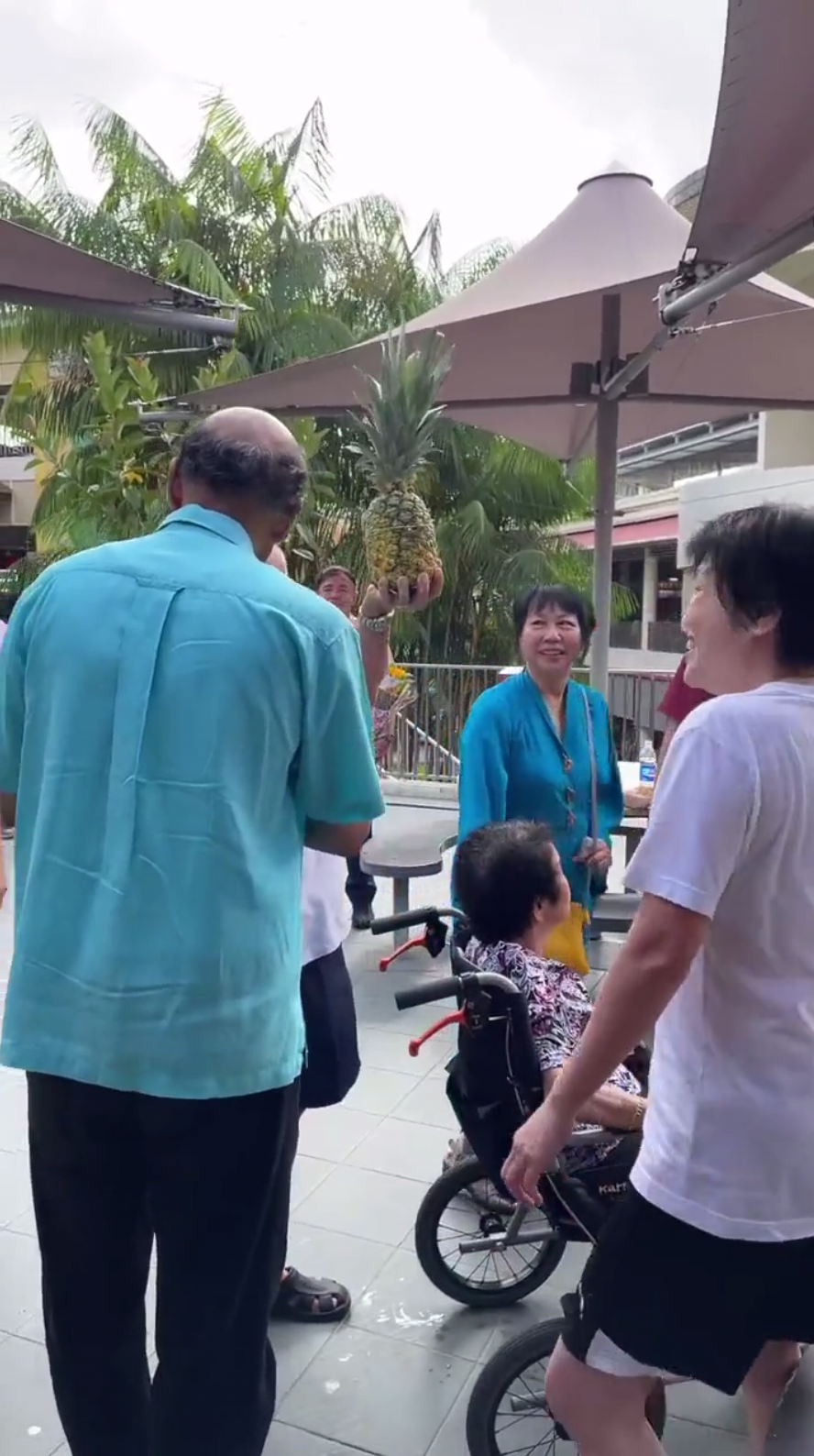 The former Senior Minister was conducting a walkabout at Tiong Bahru Market with his wife, Jane Ittogi.
Both were clad in matching blue outfits.
Like previous walkabouts, people were eager to shake hands and take photos with the pair.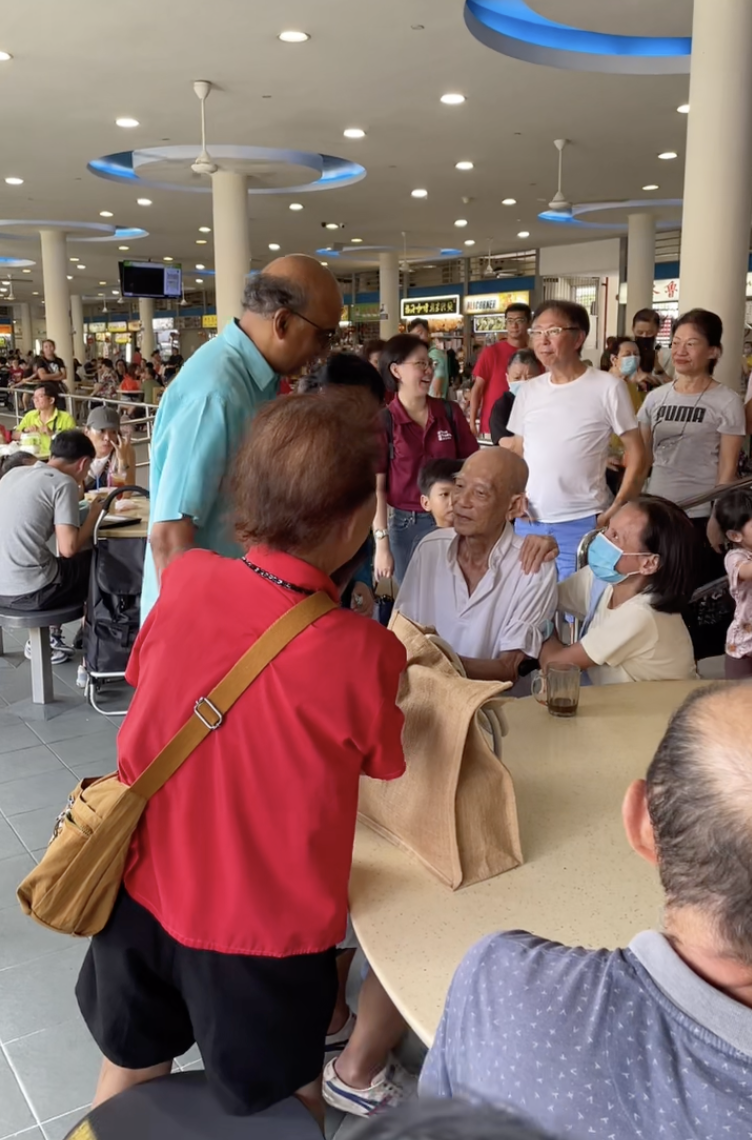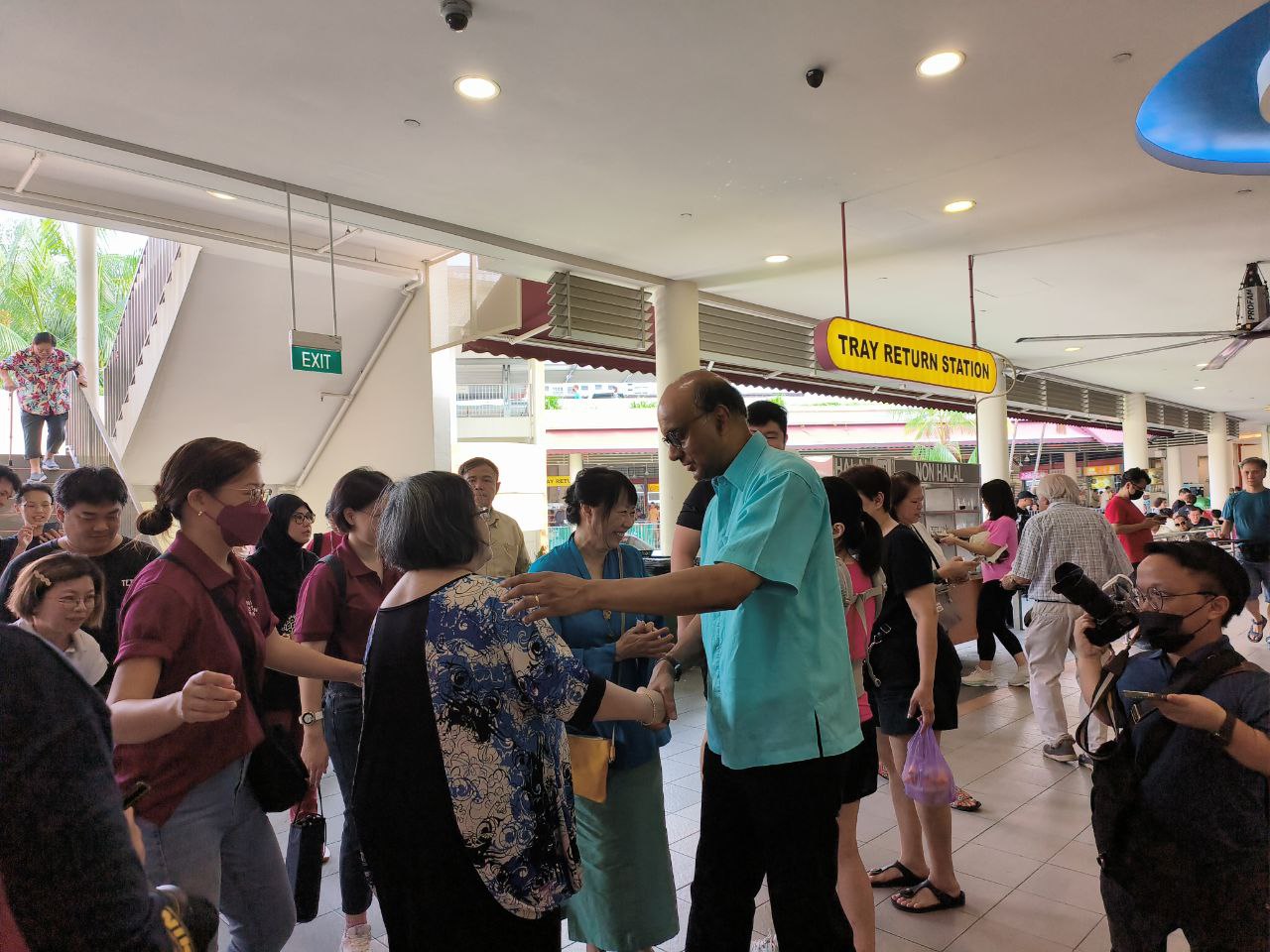 Speaking briefly to the media via a doorstop interview, Tharman shared that thus far, "stamina hasn't been a problem" in his campaign efforts as he has been doing this "for years".
"I enjoy it greatly. You know what keeps you going actually, is the conversations," he added, describing Singaporeans as an "optimistic and positive people".
"You never think about whether you're tired or not."
Candidates shouldn't be reduced to past affiliations
Tharman also responded to comments made by fellow candidate Ng Kok Song at the NUSS "Meet The Presidential Candidate Series" on Aug. 25.
Ng pointed out that should a former Finance Minister become president, having new ministers or a Prime Minister who had previously worked with them or were mentored by them would likely lead to a conflict of interest situation.
Tharman, who was formerly Finance Minister until 2015, replied:
"Well, that might happen if you have two weak individuals. And if you have a president who doesn't know how to stand his ground. And I think that's certainly not going to be the case with me."
Ng also mentioned during the session that a clause in Singapore's Constitution states that the presidential candidate should not belong to any political party.
Ng then pointed out that all presidents were "endorsed by the governing party" since the elected presidency was introduced.
"I would submit that it's not in keeping with the spirit of the Constitution," Ng said.
Asked for his response, Tharman said he is not endorsed by any party.
Additionally, he said that Ng's comments would mean that people like former president Ong Teng Cheong and former presidential candidate Tan Cheng Bock would have to be ruled out, along with "most of the people who are in the public sector track" who weren't ministers, but who were appointed by ministers.
"We can't rule everyone out," Tharman reiterated.
He added:
"Let's focus on the individual. Because this is a leadership contest and a very important leadership contest. And we can't look in an artificial way at past affiliations.

Which party we were once part of, or maybe which party we voted for. Some people have voted for the same party all their lives, does that make them not independent when they take on a position like this?"
Tharman continued that one's character and how they hope to serve is of greater importance.
"It's too important a contest to reduce it to the simplicities of past affiliations," he stated.
Replying to a question about how he felt about the president's role being "slightly curtailed" by the Council of Presidential Advisers (CPA), Tharman highlighted that the president doesn't have "complete say over issues".
The CPA is therefore part of the Constitutional "checks and balances".
With his background as Finance Minister and Deputy Prime Minister, Tharman also assured that he will "work with respect with the CPA".
"But as you know, no one in the bureaucracy or anywhere else can fool me on any matter to do with government finances," he remarked.
Top photo screenshot from Mothership's TikTok livestream