On Feb. 27, one Sin Jia Hui witnessed a cat, presumably a pet, being run over at Lorong 2 Toa Payoh.
She shared about the incident in a post to a Facebook group dedicated to cats in Singapore, in hopes that the owners would be aware and provided closure on the whereabouts of their cat.
The incident
The photo Sin posted showed the tabby cat lying motionlessly on the road.
It had a blue collar with a matching blue bell, leading Sin to posit that it belonged to someone.
Additionally, she shared that she is familiar with the house cats in the area.
In her post, Sin shared that the cat was run over by a car "possibly in between 10 to 11am or so" on that day.
Sin reached out to Jalan Besar Town Council, and the carcass was removed at around 12pm.
"I hope this message brings you some closure as to the whereabouts of your cat, rather than waiting endlessly for it to come home," she concluded.
Netizens' response
One commenter frowned on her calling the town council, as they claimed the town council would "dump" the body into a rubbish bin.
In response, Sin said she was concerned about "preserving [the cat's] dignity", especially since it started "pouring".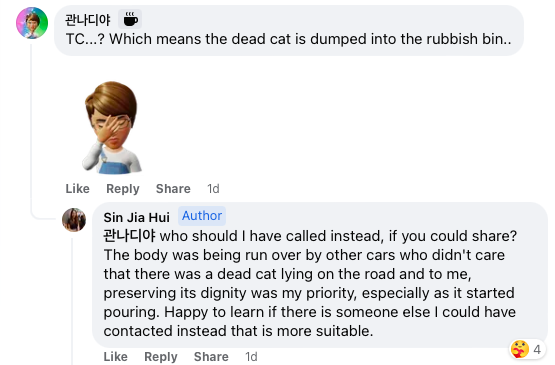 Sin added that the cat was being run over by other cars, whose drivers "didn't care that there was a dead cat lying on the road".
Other commenters offered their condolences.

Related articles
Image via Sin Jia Hui/ FB.
If you like what you read, follow us on Facebook, Instagram, Twitter and Telegram to get the latest updates.